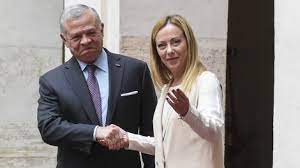 Rome: Italy steers clear of the Belt and Road Forum. No representative of the Italian government will attend the event in Beijing, a two-day celebration marking the tenth anniversary of China's massive infrastructure, investment and influence project known as the Belt and Road Initiative. According to diplomatic sources, Italy will be represented by its Ambassador to China, Massimo Ambrosetti.
Read between the lines. The Italian executive deserting the event is an important signal, considering that it is set to formalise its exit from the BRI by year's end. While at the G-20 Summit in New Delhi, Prime Minister Giorgia Meloni specified that her government had been invited to the Forum but added that she hadn't discussed the matter with Chinese PM Li Qiang during their bilateral.
As such, the absence of a government representative represents a further step away from the BRI, which Rome had entered in 2019 when then-PM Giuseppe Conte (current leader of the Five Star Movement, or M5S) signed a Memorandum of Understanding with Chinese President Xi Jinping.
The Meloni government has decided not to renew the MoU, which is set to auto-renew unless one of the two parties exits explicitly. Instead, it will focus on the global strategic partnership launched in 2004 by then-PMs Silvio Berlusconi and Wen Jiabao.
The die-hard China fans. Nevertheless, some Italian entities – historically very close to Beijing – are in Beijing to attend the Forum. One is the Italy BRICS Institute, chaired by former Senator Vito Petrocelli (M5S). Another is l'Antidiplomatico, an online publication describing itself as "one of the reference voices of the multipolar world that has asserted itself over the bloody US-led unilateralism" and directed by Alessandro Bianchi, a former collaborator of Alessandro Di Battista, former MP and leading voice within the M5S.
"It will be difficult to maintain" the "excellent results" in trade with China "if Italy withdraws from the BRI", wrote Mr Petrocelli on l'Antidiplomatico, echoing Beijing's talking points while conveniently overlooking the fact that Italy's trade deficit has widened in favour of China.
"I do not believe that Western alternative projects to the [BRI] can succeed," concluded the former M5S senator, once Chairman of the Senate's Foreign Affairs Committee.