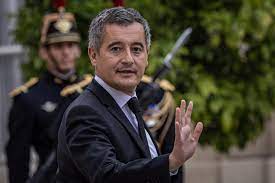 London: France's interior minister has accused the EU of "naivety" over the link between uncontrolled migration and terrorism, The Times reported.
Gerald Darmanin warned that the EU's laxity on terrorism included a failure to expel illegal migrants who had later carried out attacks.
It follows a series of bomb threats in France in the wake of the violence in the Gaza Strip, resulting in more than 130 flight cancellations and the axing of the MTV Europe Music Awards due to take place in Paris next month.
The Louvre museum in the capital, as well as the Palace of Versailles, have also faced threats.
Darmanin said: "There is still a little naivety, in the institutions of certain countries or of the EU, in the way of showing our authority."
He added that he had put "a lot of political energy" into closing down European Commission funding of groups that he warned had promoted radicalization among young European Muslims.
After two terrorist attacks in the EU over the past week carried out by radicalized asylum-seekers, Sweden hosted a ministerial meeting in which the country's Interior Minister Gunnar Strommer said there are "lessons to be learned."
Ylva Johansson, the EU's migration commissioner, said: "It's important that those individuals that could cause a security threat to our citizens be returned forcefully, immediately."
There are fears within the EU that the violence in Gaza could spill over to Europe, with Josep Borrell, the bloc's foreign affairs chief, saying: "Muslim religious authorities are explicitly stating that Europe is a party to this conflict." He added: "When I hear (this), I feel that the storm clouds are looming."