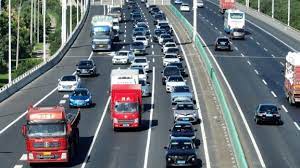 Beijing: China's road logistics price index logged a month-on-month increase for the third consecutive month in September amid improvements in both the demand and supply sides of the market, industry data showed.
The index stood at 102.9 last month, up 0.36 percent from August, according to a survey jointly conducted by the China Federation of Logistics and Purchasing and the Guangdong Lin'an Logistics Group.
The sub-indices for all types of vehicles registered mild rises on a monthly basis. The figure for full-truckload logistics, which mainly measures bulk commodity and cross-regional transportation, climbed 0.36 percent to 103.1.
In September, market demand continued to pick up as China's economic recovery gained stronger momentum. The supply side also continued to recover as the vitality of market players increased and extreme weather dissipated, said the survey.
It expected the road transport market to maintain sound recovery and the freight price index to fluctuate and rebound in the fourth quarter, which is the peak production and construction season.