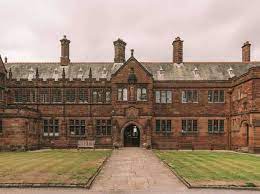 London: For more than 100 years, clergy, scholars and ordinary people have spent their days studying and their nights sleeping in this unique institution.
Minutes after I crossed from England into Wales, my GPS announced a turn down a quiet lane in the village of Hawarden, and my bibliophile heart began to race. What awaited me, I hoped, would be the closest earthly incarnation of the library from Beauty and the Beast: Gladstone's Library, a literary oasis founded by former prime minister William Gladstone in 1889 and designed so that lovers of learning couldn't just consult his collection of 20,000 books, but sleep alongside them.
"It was that sort of idea that you need to go away, to be dislocated, almost, so that you can learn well," said Andrea Russell, current warden at the library.
Gladstone's Library is the United Kingdom's only residential library. Boasting 26 bedrooms just steps from the books, it's an ideal setting for anyone who has ever dreamed of spending a cosy holiday reading, writing or focusing in silence. Guests come to disconnect in a space that seems tailor-made for the pursuit of learning, and while anyone is welcome, it's often academics who seek it out for the sustained, timid conviviality encouraged by coexistence with fellow lovers of literature.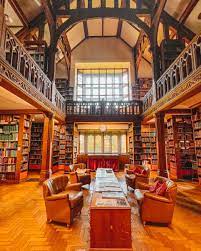 I entered the imposing russet stone building and was greeted with a cheery "Good luck!" from the woman at the registration desk before seeking out my room. I headed up then, down short flights of stairs, in and out of swinging doors far less imposing than the massive wooden ones leading to the library's now-150,000-tome-strong collection, thanks to a £40,000 endowment left by Gladstone.
All but two accessible bedrooms are located upstairs; the ground floor of the edifice is home to the major draw: the reading rooms, where it's said more than 300 books have been inspired, started, revised or finished by writers in the last decade. It's also where I found the wood-panelled dining room with views over the manicured garden and the Gladstone Room, a cosy study complete with a fireplace and leather chairs readers like me love to flop into. And, of course, there's a chapel.
Indeed, Gladstone's original idea of a live-in library was inextricably entwined with his deeply held Christian faith. In fact, for most of its life, the library has mainly hosted theological scholars and clergy. The library's relationship with the Church was formalised in the latter half of the 20th Century, when it became a training centre for ordinands, only to diminish by the 1990s when the Church withdrew. At this point, according to Russell, "the place was at a crossroads".
What had once retained an air of exclusivity, requiring reference letters to secure a spot to study among staff in full academic gowns or clerical wear (dog collar and cassock), suddenly needed what Russell called a "rethink about who we are and what we are".
Gladstone's Library has not fully departed from its roots; on the contrary, one stipulation is that the warden always be an Anglican priest. Russell was ordained while earning her PhD in theology at the University of Nottingham and took the post in October 2022, becoming the first female warden and imbuing the space's dark wood walls and gilded-framed portraits with jovial energy and humour.
"I think I must have been quite mad!" laughed the pink-haired warden.
According to Russell, these days only about 30% of guests are clergy, compared to 80% in years past. Another third are researchers or academics. The latter third come, as I did, for the space and the books. Gladstone's diary, Russell said, suggests he read "about a book a day", and his eclectic collection reflects his wide range of interests, from classics to mathematics to history.
Rooms at Gladstone's Library range from £120 for a single room to £175 for a double suite. Breakfast is included for all overnight guests and a 40% discount is available for students, clergy and members of the Society of Authors.
"This is a man who [was] naturally curious," said Russell. "For him, I think, the idea of banning a book would be… anathema."
Gladstone maintained an equally curious cataloguing system, which was a keen departure from the familiarity of Melvil Dewey's. As Louisa Yates, the library's director of research and collections explained, Gladstone organised history books coming from outside of England "by their position in the British Empire".
Gladstone's original collection still maintains this unique organisation, but some new acquisitions, such as the library's texts of Islamic faith and culture, now incorporate the Dewey Decimal System.
Today, Gladstone's Library draws book lovers to its hallowed halls with activities ranging from self-publishing workshops to weekend seminars on the Victorian idea of heaven to Gladfest, which bills itself as "the UK's friendliest literary festival". It also welcomes about four writers-in-residence a year, counting among them names like Naomi Alderman and Sarah Perry.
Locals take advantage of the space, too, and during my visit, I glimpsed A-Level students convening to study for their last exams. Yet, the true treasure of the library – and that which perhaps best aligns with Gladstone's original intentions – comes in spending the night, to disconnect from the distractions of life and devote oneself, even for a day or two, to the pursuit of knowledge.
I began my day with chapel at 08:00. Russell's service was warm and welcoming even to non-Anglicans like myself, mixing liturgical texts with poetry by Pablo Neruda. Some guests, she told me, even attend in their slippers.
Afterwards, guests convened for breakfast. Pre-pandemic, everyone dined at one long table. These days, there's a choice between sharing and solitude, which some seek out to greater degrees than others.
"We occasionally have people sitting outside in the glorious Welsh wind and rain," said Yates, "and often the staff will be clustered on the staircase looking out like… 'Are they all right?' Because they're eating porridge in a cagoule."
Despite my natural introversion, I took a seat at a table bearing a plastic "shared" sign and was joined by Russell and two other guests: a woman attending a weeklong Latin intensive course, and a repeat visitor here to research his next book. Before long, we were discussing protests in Paris and comparing international approaches to health insurance. It was a testament to the way Gladstone himself liked to start his day.
"He didn't read a lot of newspapers," Russell said. "And so, he used to have breakfast meetings, where he was basically gathering news."
At 09:00, the reading rooms opened, and I followed the mix of day visitors and overnight guests through the imposing wooden doors.
"You can always tell the people who haven't been here," Yates said, "because they come in and they just go… [gasp!]" I knew what she meant. The reading rooms were extraordinary, each with two storeys lined with leather-bound volumes, a smattering of desks on the mezzanines lit by gentle lamplight and comfy leather armchairs perfect for breaks.
"We took a woman in recently," Russell recalled, "and she just burst into tears!"
According to Yates, guests make themselves quite at home here and often kick off their shoes in the winter to warm their feet on the heating pipes. From her seat at the inquiry desk, "their little socked feet are waving at me through the galleries," she said, "and I love that."
Come noon, people emerged for lunch at Food for Thought, the on-site restaurant; some then wandered down to the village, home to a pub and a farm shop: "enough to keep you occupied", Yates said, "but not enough to actually distract you."
Another few hours of reading brought us to dinner, when Food for Thought served a host of local specialties, including fish cakes and a cheese plate of Welsh truckles paired with sinfully delicious brown sugar walnuts. After the meal, many convened to chat in the Gladstone Room with a drink from the honesty bar, while others returned to the reading rooms, which remain open to all until 22:00.
After they closed, I absconded to my bedroom, its brick-lined windows offering views over the gardens. While some are even more book-themed than mine, with book-embellished wallpaper, I appreciated the small touch of an appendix to the "Do not disturb" sign: "I'm reading".
Which I was. There was no television, but I didn't mind; as Russell told me earlier, "We know that [Gladstone] read novels in the evening, a bit how we watch the telly." Each bedroom has a private bathroom, and seeing as mine had an almost sinfully deep bathtub, I sunk in and read until it was time to sleep, the whistle of the Welsh wind the only sound that crept into the otherwise silent space.
When I first learned about Gladstone's Library, I wondered if it would feel a bit like a museum: archival and dusty and of a different time. But before departing the next morning, as I stepped back into the Gladstone room for one last goodbye, I glimpsed students sharing tea and a heated debate (and yes, a few selfies); I saw a man sitting by the chess table at the window, lost in thought.
"Often people talk about my bit, the bit I look after, as the library," said Yates. "The whole place – the grounds, the trees, the front gate… that's the library."
As I drove away, I felt a strange pang of hiraeth, a uniquely Welsh homesick longing. But I was heartened, too, by something Yates told me. "You never really leave Gladstone's," she said. "You'll find us."