PM for accelerated efforts to curb power theft in AJK, Sindh, Quetta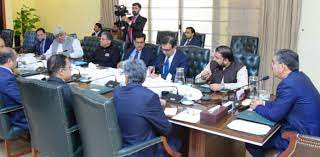 Liaquat Ali
Islamabad: Caretaker Prime Minister Anwaar-ul-Haq Kakar on Wednesday directed the relevant authorities to accelerate their efforts to curb electricity theft in Azad Jammu & Kashmir, Sindh and Quetta. The prime minister, chairing a review meeting on the anti-power theft campaign, also instructed to speed up the solarisation of agriculture tube-wells.
He also sought a comprehensive report on the resistance faced during the anti-power theft drive in Balochistan and other allied issues. The prime minister told the participants of the meeting that it was the caretaker government's responsibility to leave behind an established system for the next democratic government concerning the steps like anti-power theft campaign.
The prime minister was briefed on the outcomes of the campaign since its launch. He was told that the process was going on successfully in collaboration with the provincial governments. It was informed that under the campaign, a total of 19,415 power thieves were arrested and 39,836 First Information Reports were registered against power theft since September. Around 189 government officials had also been suspended over their involvement in the electricity theft. The meeting was told that the campaign against the electricity theft remained the most successful in Mardan where the power theft ratio declined from 43 percent to 13 percent.
The participants were told that Rs 14 billion had been recovered under the campaign till September 30. Prime Minister Kakar lauded the performance of the Energy Ministry, power distribution companies, and relevant federal and provincial authorities for the successes achieved in the campaign. The meeting was also apprised of the outcomes of the countrywide analysis to find out the causes behind the power theft. Caretaker federal ministers for interior, energy and information & broadcasting, provincial chief secretaries and relevant federal secretaries attended the meeting.