Chinese envoy meets PM Kakar, enhanced bilateral cooperation discussed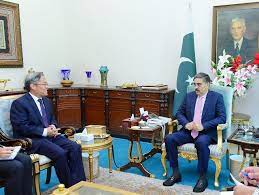 Gwadar Pro
Islamabad: Ambassador of the People's Republic of China to Pakistan Jiang Zaidong paid a visit to the Caretaker Prime Minister Anwaarul Haq Kakar to disciss the PM's recent successful visit to China.
During the meeting, the Prime Minister expressed his gratitude to Chinese President Xi Jinping and the Chinese leadership for their warm welcome and the excellent arrangements made during his recent visit to China.
He emphasized Pakistan's commitment to taking robust measures to implement the Memorandums of Understanding (MoUs) and agreements that were signed during his visit to China.
The Prime Minister underscored that these recent agreements between the two nations will mark a significant milestone in the development of the China-Pakistan Economic Corridor (CPEC).
He also recognized China's Belt and Road Initiative as a key driver for the overall development and prosperity of the entire region.
In a show of the strong bilateral ties between China and Pakistan, the Prime Minister stated that the friendship between the two countries is as enduring as the towering mountains and as profound as the deep seas. He pointed out that the people of both nations are reaping the benefits of the China-Pakistan Economic Corridor (CPEC).
In response, the Chinese Ambassador assured the Prime Minister of China's unwavering support and cooperation in advancing the development and economic stability of Pakistan.
This meeting underscores the continued collaboration and partnership between China and Pakistan in their efforts to strengthen economic and diplomatic relations.