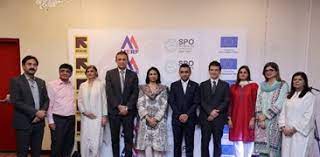 Celina Ali
Karachi: In response to the rising malnutrition crisis in Sindh, a two-year support action, funded by the European Union, aimed at strengthening community-based organizations in 5 districts of Sindh to combat malnutrition was launched at a ceremony in Karachi.
The initiative aims at addressing malnutrition in five adversely affected districts of Kashmore, Ghotki, Sukkur, Khairpur, and Nosheroferoze in Sindh province. The 6 million EUR project, co-funded by the European Union, will be implemented jointly by the International Rescue Committee (IRC), Medical Emergency Resilience Foundation (MERF) and the Strengthening Participatory Organization (SPO).
Speaking at the event Mr Carlo De Rosa, Development Advisor for Rural Development and Nutrition at the EU delegation to Pakistan, said that "from global experiences it is well established that ensuring nutrition security requires a collaborative, multi-sectoral approach that involves diverse stakeholders, with local CSOs playing an integral role". He further stated that the project will improve the quality and coverage of interventions, foster synergies for 'nutrition-specific' approaches and will ultimately provide an enabling environment to shape political, institutional and policy processes for addressing malnutrition.
Shabnam Baloch (Country Director, IRC Pakistan) in her remarks acknowledged European Union for their financial assistance to carry forward nutrition agenda and noted that "Cultivating a future free from malnutrition requires us to harness the strength and wisdom of local civil society organizations. They are the compass guiding us towards healthier, more vibrant communities."
She further stated that Nutrition matters for us and we at IRC are committed to strengthening our programs to deliver nutrition focused interventions for addressing the escalating impacts of Climate Change aggravating the malnutrition situation in Pakistan.
Through this project IRC, MERF and SPO will strengthen the capacity of 15 local CSOs and provide nutritional support to over 245,000 women and 415,000 children. Moreover, will also work closely with the Sindh health department to improve the nutrition-related skills of 389 staff at public health facilities across the Province and increase their capacity in supply chain management and surveillance. Another key endeavor of the project is to foster CSO led policy dialogues aimed at informing policy makers with evidence-based findings to shape policies that ultimately help improve health and nutrition services for the most deserving communities.
The joint effort of the European Union, International Rescue Committee and its partner Civil Society Organizations, will support the Government of Sindh in its efforts in reducing stunting and wasting among children and women. This support is considered even more crucial in the wake of the 2022 floods which further negatively impacted overall population nutrition, not only in Sindh, but across the country as a whole.
In Pakistan, the European Union's support to nutrition commenced with humanitarian assistance after the 2010 floods. Since 2013 this assistance has taken a long‐term and sustainable perspective by assisting public departments to deliver nutrition services, within a clear and efficient policy framework. The EU assistance has greatly contributed to the improvement of nutrition through the 30 million EUR project: Women and children/infants Improved Nutrition in Sindh (WINS), implemented in three districts of Sindh: Thatta, Shikarpur and Dadu, and the 60 million Euro Programme for Improved Nutrition in Sindh (PINS) through which the EU geographically extended its support covering 10 Districts integrating the work done by the Government of Sindh in the frame of the Accelerated Action Plan for Reduction of Stunting and Malnutrition.