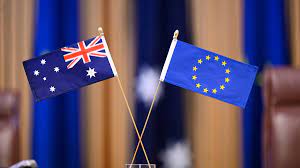 Brussels: The European Union and Australia are heading into a critical round of free trade talks, with both sides warning that a failure to strike a deal now could delay any potential agreement by months or even years.
EU Trade Commissioner Valdis Dombrovskis and Australia's Trade Minister Don Farrell will meet in Osaka, Japan, following weekend Group of Seven talks. The two will try again to reach a free-trade accord — three months after Farrell walked out of the last negotiations in Brussels.
Ahead of his departure for Japan, Farrell said he wouldn't sign an agreement that left his nation's agricultural sector worse off. "I have made it very clear Australia will not sign a deal for the sake of it, and I meant it," the minister said in a statement.
The two sides have been working on a free trade agreement for more than five years. While there is broad consensus across most areas, a few final sticking points threaten to derail the entire compact.
The Australian side is pushing for greater access to the European market for its beef, mutton and sugar, while Brussels wants an end to the use of certain geographic locators on products such as prosecco and feta.
Neither Canberra nor Brussels is completely convinced that a deal will be struck, although there is cautious optimism that it could finally happen.
Dombrovskis told reporters in Osaka on Saturday that the deal with Australia was "within reach" but there were some hurdles remaining. "For the EU it's substance over speed so we will be able to conclude the negotiations once the substance is right," he said.
Speaking to Sky News on Sunday, Farrell said he'd been in conversations with the French delegation over the weekend in Osaka to try to reach a breakthrough.
"I'm very strongly pushing the case with the French and with any other European country that I'm talking to that we need a better deal," he said. Both sides have real cause to want to reach an agreement.
For Australia, the center-left Labor government needs a win after the heavy defeat of a national referendum it backed to set up an Indigenous advisory body. It has been criticized by opposition figures for not focusing enough on the economy and a free-trade deal with Europe would counter that narrative.
Meanwhile, the Von Der Leyen commission needs to score a victory on the trade front after a missed attempt with the US to remove steel and aluminum tariffs imposed by the Trump Administration. It's also having difficulty concluding an agreement with the Mercosur bloc that includes Brazil, Argentina, Paraguay and Uruguay.
In a podcast interview with The Conversation on Thursday, Farrell said the geographical locators issue was still to be resolved. He added that failure to reach a deal, after the previous breakdown of talks, could delay an agreement for years to come.
"I'm hoping that the time lapse between then and now gives them the opportunity to make us a better offer, and on that basis if it's good enough, I'll be recommending to the Australian people that we should accept it," he said.
Farrell has repeatedly said he would not accept the deal that was presented in July. But he would weigh up any new offer.
"If on balance the things that are good about the European Trade Agreement outweigh the things that are bad, because there's always bad things in agreements, then I feel I've got an obligation to the Australian people to say yes," he told The Conversation.
Leading up to the talks, Australian farmers put concerted pressure on the government to reject a sub-par deal.
Speaking at the National Press Club on Tuesday, the National Farmers Federation's Fiona Simson said the previous offer was a "dud" that would have potentially cost the dairy industry "millions and millions" of dollars.