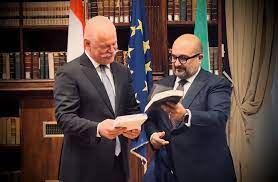 Rome: Joint Italian-Hungarian cultural and scientific programs will be launched in the coming years, Minister of Culture János Csák announced in Rome after talks with Italian Minister of Culture Gennaro Sangiuliano.
After the meeting, János Csák stressed that Hungarian-Italian cultural, economic, and security policy relations have always been at a high level and that the two countries can rely on long-standing common historical roots. He noted that the fact that there is an Italian institute in Budapest and a Hungarian institute in Rome, creates two bridgeheads that lay the foundations for scientific, cultural, and artistic cooperation.
In 2027, he said, it will be the 100th anniversary of the founding of the Hungarian Academy in Rome by Kuno Klebelsberg, the man who shaped Hungarian education and cultural policy, and in 2026, it will be the centenary of 1956, the year that changed the way people saw communism.
He stressed that he and his colleague had agreed to launch cultural and scientific programs in 2026 and 2027 to mark the anniversaries.
Minister Csák remarked that this year two Hungarians were also awarded Nobel Prizes, and stressed that Italian-Hungarian relations in scientific cooperation also go back a long way, "to the period between the two world wars, when Italian and Hungarian scientists worked together on the Manhattan Project in the United States."
The politician stressed that the aim is to strengthen scientific cooperation and to promote science, in addition to culture and the arts, because "the future is decided in science and the arts, alongside politics and religion, and in this the Italians and Hungarians have contributed beyond their limits to the world."