Chinese Ambassador emphasizes significant role of BRI in guiding international development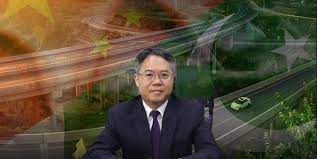 Islamabad: Chinese Ambassador to Pakistan Jiang Zaidong has emphasized the significant role of the Belt and Road Initiative (BRI) in guiding international development.
In a meeting with Caretaker Federal Minister for Power and Petroleum, Muhammad Ali here, Ambassador Jiang Zaidong highlighted the potential for collaboration between the industries of both countries under the framework of the BRI, signifying the mutual benefits that can be derived from such cooperation.
The Ambassador also welcomed the Energy Minister's proposal to facilitate a delegation of private companies to engage with Chinese enterprises, aiming to enhance cooperation in various sectors.
During the meeting, the minister expressed his gratitude for China's continued involvement in the energy sector of Pakistan and conveyed his congratulations for the successful 3rd Belt and Road Forum for International Cooperation, which took place earlier in the month in China.
The Caretaker Federal Minister underscored that Pakistan's future energy strategy will emphasize the utilization of indigenous and renewable energy sources.
He identified renewables, transmission networks, and distribution companies (DISCOs) as key areas for potential collaboration between China and Pakistan.
He mentioned the potential for leveraging cutting-edge technology from Chinese corporations to enhance energy supply, particularly in the context of the Coal Gasification plant in Thar, which could contribute to strengthening the energy supply to industries.
This collaborative effort signifies a shared commitment to harnessing the potential of the Pakistan-China friendship for mutual development and progress, he added.