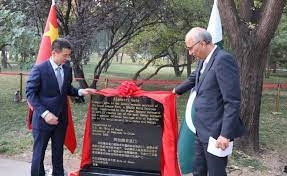 Islamabad: Ambassador of Pakistan to China Moinul Haque has unveiled a newly constructed replica of the Alamgiri Gate at Beijing's World Park.
This gate, an iconic entrance to the UNESCO World Heritage Lahore Fort, originally built by the Mughal emperor Aurangzeb in the seventeenth century in Lahore, Pakistan, has been recreated in China.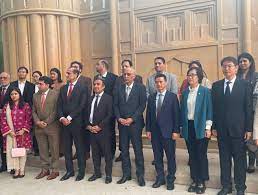 The unveiling marks the second such replica of a Pakistani monument introduced in China in recent months, emphasizing the commitment to bolster cultural and people-to-people connections between the two nations.
The Embassy of Pakistan orchestrated a special ceremony to commemorate this occasion. During the event, Ambassador Moinul Haque underscored the historical significance of the Alamgiri Gate and expressed hope that the replica would become a symbol of the strong friendship between China and Pakistan.
He also mentioned that 2023 has been designated as a year of tourism for both countries and anticipated that this replica would pique the interest of Chinese tourists, encouraging them to explore the historical and cultural wonders of Pakistan.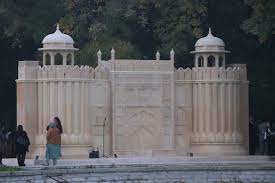 The Ambassador emphasized the enduring bond between Pakistan and China, highlighting the pivotal role of cultural cooperation in nurturing mutual trust and enhancing the strategic cooperative partnership between the two nations.
The inauguration ceremony witnessed the presence of a substantial gathering of Chinese scholars, media representatives, and members of the Pakistani community.