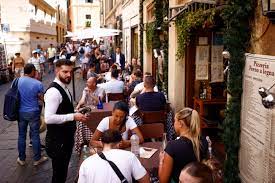 Rome: Italy's industry minister intends to negotiate with restaurant owners' associations steps to control prices and favour consumption by large families, a government document seen by Reuters showed on Thursday.
Industry Minister Adolfo Urso summoned several associations of the catering and food sector to a meeting on Nov. 7 at 0800 GMT, the document showed.
The initiative stems from a desire to promote theItalian catering sector and consumption by families, "especially large families who, in a period of persistent inflationary pressures, have had to review their habits," it added.
Rome's goal is to make it possible to "enjoy restaurants, places that are the emblem of good Italian living," the document said.
As in other European countries, inflation in Italy is gradually reversing from peaks after the European Central Bank embarked on its longest and steepest ever series of interest rate hikes.
However, Prime Minister Giorgia Meloni's government is keen to enforce measures aimed at supporting lower classes struggling with rising prices, at a time when companies are often blamed for passing on more than the direct increase in production costs to consumers.
The latest move follows a similar initiative launched last month to try to control prices in supermarket chains and small shopkeepers for essential staples in the last quarter of this year.
Italian EU-harmonised consumer prices (HICP) rose a preliminary 0.2% month-on-month in October, with annual inflation slowing to 1.9% from 5.6% in September, data showed this week.