UK's Sunak discusses AI risks with Kamala Harris at summit before chat with Elon Musk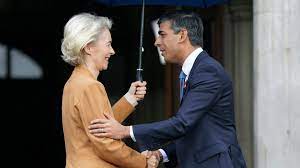 Bletchley Park: British Prime Minister Rishi Sunak, U.S. Vice President Kamala Harris and senior politicians from around the world agreed Thursday at a U.K. summit on the importance — if not the details — of containing risks from rapid advances in cutting-edge artificial intelligence.
Sunak organized the first-ever AI Safety Summit as a forum for officials, experts and the tech industry to better understand cutting-edge, "frontier" AI that some scientists warn could pose a risk to humanity's very existence.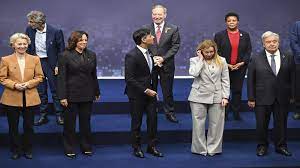 The leaders of the United Nations and the European Union joined talks on the second day of the meeting, held at a former codebreaking spy base near London. It kicked off on Wednesday with an agreement signed by 28 nations, including the U.S. and China, to work toward "shared agreement and responsibility" about AI risks, and a plan to hold further meetings in South Korea and France over the next year.
China did not attend the second day, which focused on meetings among what the U.K. termed a small group of countries "with shared values." Sunak held a roundtable with politicians from the EU, the U.N., Italy, Germany, France and Australia.