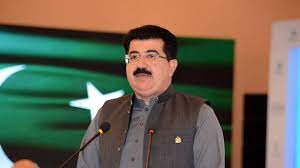 Islamabad: Senate Chairman Muhammad Sadiq Sanjrani said that the Chinese institutions and companies played a crucial role in strengthening the bond between the two nations.
In a message on the launch of report titled 'Thousands of Miles with CPEC,' he underlined the profound and enduring friendship between Pakistan and China.
He commended the significant contributions made by Chinese institutions and organizations operating in Pakistan, emphasizing their crucial role in cementing Pakistan-China ties.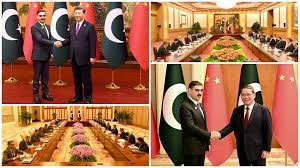 The ceremony, which took place at the Pakistan Institute of Parliamentary Services, was attended by distinguished guests, including Senator Mushahid Hussain Syed, Minister for Information and Broadcasting Murtaza Solangi, Chinese Ambassador Jiang Zaidong, the Executive Director of Pakistan-China Institute Mustafa Hayder Sayed, and Chairman of the All Pakistan China Enterprises Association Yang Jianduo.
The heartfelt message on behalf of Chairman Senate was conveyed to the audience by the Executive Director of Pakistan-China Institute, Mustafa Hayder Sayed.
In his message, Chairman Sanjrani highlighted the enduring friendship between Pakistan and China and praised the substantial contributions of Chinese institutions and organizations operating in Pakistan.
He noted that these contributions have played a pivotal role in strengthening not only government-to-government relations but also nurturing the people-to-people connections that underpin this exceptional friendship.
Sanjrani emphasized that the deep-rooted and historic friendship between Pakistan and China transcends borders and cultures, serving as a model for the world.
He commended the visionary leadership of Chinese President Xi Jinping, highlighting his remarkable vision and unwavering commitment, which has turned China into an economic powerhouse, inspiring nations worldwide.
He mentioned that the Belt and Road Initiative (BRI), with the China-Pakistan Economic Corridor (CPEC) as an integral part, was recognized as a testament to the transformative power of visionary leadership. Sanjrani underscored that this initiative aims to promote connectivity, cooperation, and mutual development within the region and beyond, symbolizing the dedication and hard work of both nations and their people.
Sanjrani also shared insights from his recent visit to China for the symposium commemorating the 10th anniversary of President Xi Jinping's principle of amity, sincerity, mutual benefit, and inclusiveness in neighborhood diplomacy. He praised this visionary policy, emphasizing its positive impact on people worldwide.
He described the release of the '10 Years of CPEC' report as a significant milestone, covering the substantial progress and achievements made thus far.
Sanjrani commended all stakeholders for their dedication and hard work while highlighting the need for the transfer of industries under CPEC to realize its full potential as an economic corridor.
He noted that Gwadar, the emerging city, and the Special Economic Zones established along CPEC routes are poised to welcome Chinese industries. This will create employment and export opportunities for Pakistan, offer cost-effective labor, and provide access to international markets for Chinese companies, ultimately benefiting both nations.
Chairman Sanjrani expressed optimism for the continued cooperation between Pakistan and China. The '10 Years of CPEC' report serves as a valuable resource, reminding both nations of their mutual commitment and the boundless opportunities that lie ahead.
He pledged that Pakistan and China were set to embark on a transformative journey towards a future of shared prosperity and success.