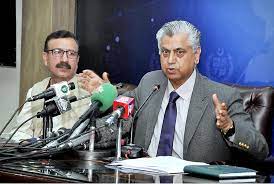 Gwadar Pro
Islamabad: Pakistani Caretaker Minister for Information and Broadcasting Murtaza Solangi has highlighted that Chinese enterprises have gone beyond traditional infrastructure projects like highways and power plants, making significant contributions to the empowerment of local communities in previously underserved regions such as Thar in Sindh and Gwadar in Balochistan.
He mentioned initiatives like women driving dumper trucks at the Port Qasim Coal Power Plant and the positive impact of institutions like the Faqeer Primary School and Pak-China Technical and Vocational Institute in Gwadar.
Speaking here at the launch of the report on the ten-year progress of the China-Pakistan Economic Corridor (CPEC), organized by the All Pakistan China Enterprises Association and Pakistan China Institute, he maintained that the cooperation between China and Pakistan continues to strengthen and the Ministry of Information and Broadcasting will play an increasingly significant role in facilitating cooperation with Chinese enterprises in areas of mutual interest.
Solangi praised the Pakistan-China Institute for hosting this important event, highlighting the substantial work carried out by Chinese enterprises in Pakistan, which deserves recognition on a global scale.
He acknowledged the institute's dedication to promoting sustainable efforts by Chinese enterprises, which has contributed to a better understanding of their work among the public.
The minister also noted the continuous coverage of Chinese enterprises' development on CPEC projects in the media and commended their professionalism and resilience, especially during the challenges posed by the global pandemic.
He emphasized that over 201 member companies of APCEA have invested US $ 25 billion in Pakistan, employing over 85,000 local individuals, affirming CPEC's role as a transformative and exemplar project of the Belt and Road Initiative.
The minister also commended the growing collaboration between Pakistan and China in various sectors, including green development, special economic zones, textiles, agriculture, and the digital economy. He mentioned Prime Minister Anwaar-ul-Haq Kakar's attendance at the Belt and Road Forum meeting at the special invitation of President Xi Jinping, where both countries reaffirmed their commitment to their strategic partnership and deepened cooperation across multiple domains.
He said the two sides expressed their support for each other on key issues and stressed the importance of the Belt and Road Initiative (BRI) in promoting global economic growth.
"Within the BRI framework, the China-Pakistan Economic Corridor (CPEC) was recognized as a pioneering project, and the two sides agreed to further enhance its development. They also signed various agreements, MoUs, and protocols covering areas such as infrastructure, mining, industry, green development, health, space cooperation, digital economy, and more. The two countries also emphasized their joint commitment to regional peace, stability, and the resolution of long-standing disputes," he added.
Solangi informed that Prime Minister Anwaarul Haq Kakar invited President Xi Jinping to visit Pakistan, underscoring the strong bilateral relations between the two countries.
He emphasized the continuity of friendly consultations and high-level contacts over the past 70 years, which have solidified the political consensus and mutual trust between the two nations.