PM hopeful of SIFC bringing in over $60b investment to Pakistan in five years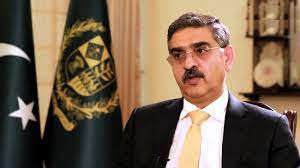 Celina Ali
Islamabad: Caretaker Prime Minister Anwaar-ul-Haq Kakar on Tuesday expressed the hope that the Special Investment Facilitation Council (SIFC) would help bring in over $60 billion investment to Pakistan in the next five years.
"It is indeed. It could be probably more than that," the prime minister said in an interview with Arab News when asked whether the reports that the SIFC would bring in up to $60 billion in investments in Pakistan in the next five years were realistic.
He said the SIFC would serve as a "one-window operation" to address any concerns of foreign investors.
"Two or three areas have already been addressed, like repatriation of dollars, which is the demand of any FDI [foreign direct investment] entity, [that] it's insured, it's legally protected," the prime minister said.
"Secondly, the bureaucratic red-tapism has also been addressed, the one-window opportunity on the platform of SIFC is primarily being designed for this purpose, that we need to cut off all these bureaucratic hurdles and rationalize the entire process of allowing and giving permission to any investment from outside within 15 days."
He said a dispute resolution mechanism had been agreed under the SIFC platform.
"It's quite encouraging and favourable, which is acceptable to all the outside parties … The dispute resolution mechanism has been addressed."
To a question, he said the government hoped to conclude a deal by December for Saudi Arabia to buy stakes in Reko Diq, one of the world's biggest gold and copper mining projects.
"We are quite excited at the Saudi offer, and we would be very much encouraging their participation, not just in this project but otherwise also," Prime Minister Kakar said.
"It is the negotiation part, which is happening between the three parties, and let's see what sort of outcome comes of that."
In August, Pakistan hosted officials from Saudi Arabia in its inaugural mining conference in Islamabad where Barrick officials were also present. Barrick and Saudi Arabia's state-owned mining company Ma'aden jointly operate a copper project in Jeddah.