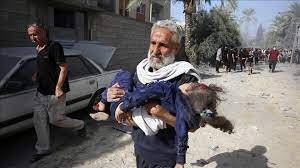 Brussels: A Brussels-based major children's right organization urged the European Union (EU) to condemn Israel for war crimes committed by its military in the Gaza Strip, particularly against children in the occupied Palestinian territory.
"We urgently call upon the European Union (EU) institutions and EU Member States to take immediate and decisive action in response to the ongoing conflict in the occupied Palestinian territory (oPt) and Israel and to end war crimes committed against civilians," Eurochild Communication Director Davide Rambaldi said in a statement shared with Anadolu on Thursday.
He said "The EU must equally support civilians, regardless of religion, nationality or residence, and hold accountable all parties equally."
Anything less would show an unacceptable double standard in the EU's response to humanitarian crises, ultimately undermining the EU's internal social, democratic, and international credibility, it added.
"We also strongly urge EU decision-makers to stand against Israel's war crimes and collective punishment committed against the Palestinian population especially children who amounted to half of Gaza's 2.3 million population before the start of the conflict. They are the most impacted by this conflict and the generated sense of fear and horror."
According to the statement, Eurochild urges EU institutions and member states to use all available means to alleviate the suffering of Palestinian civilians, including children.
It also asked all EU institutions and member states to use their diplomatic influence to ensure a cease-fire, continued access to humanitarian aid, and accountability for those involved in the collective punishment of civilians and violation of international law.
"Advocate for an immediate cease-fire, support sustained and unimpeded access to humanitarian assistance, as called by the European Council last week, promote peaceful negotiations, publicly and unconditionally call for accountability for all parties to the conflict, without exception, for their violation of international law and the collective punishment of civilians," it said.
Israel launched relentless air and ground attacks on the Gaza Strip since a cross-border attack by the Palestine group Hamas on Oct. 7.​​​​​​​
At least 10,569 Palestinians, including 4,324 children and 2,823 women, have been killed, according to Palestinian figures.
The Israeli death toll nears 1,600, latest official figures say.