All-weather friends decide to make Khunjerab Pass operational in all weathers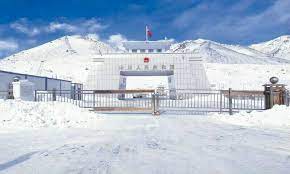 Islamabad: All-weather friends Pakistan and China have decided that the Khunjerab Pass between Pakistan and China will now remain open during all weathers.
In a significant development, Pakistan and China have jointly decided to transform the Khunjerab border, their exclusive land route, into an all-weather passage for trade, marking a major leap in bilateral relations. The Khunjerab Pass, previously closed for four months annually due to severe weather conditions, will now remain operational even during the challenging winter season, enhancing bilateral trade opportunities.
Both nations are actively preparing for this transformative decision, with the Government of Gilgit-Baltistan responsible for implementing the necessary arrangements to keep the route accessible throughout the year. Captain Syed Ali Asghar (retd), Secretary Interior of Gilgit-Baltistan, chaired a high-level meeting on Thursday afternoon, directing relevant authorities to ensure comprehensive preparations for the year-round operation of the Khunjerab Border.
This decision, anticipated to generate economic opportunities and address challenges faced by local traders, underscores the commitment to sustaining year-round trade activities at the Khunjerab Border. Secretary Interior emphasized the positive impact on the local economy and traders' livelihoods.
To ensure effective implementation, immediate directives were issued to finalize practical arrangements for a functional Khunjerab Border and the Sost Dry Port round the clock. This proactive step is expected to create a conducive environment for trade and tourism, fostering economic growth in the region.
Caretaker Prime Minister Anwaarul Haq Kakar had announced the conversion of the Khunjerab Pass into an all-weather border during the Belt and Road Forum in Beijing last month.
Prime Minister Kakar expressed the intent to upgrade customs and logistic services, emphasizing the importance of deepening trade, connectivity, and cultural ties between Xinjiang and neighboring regions of Pakistan.
Officials believe this historic decision will strengthen economic collaboration between Pakistan and China, benefiting both nations and the people of Gilgit-Baltistan. It stands as a testament to the enduring friendship between the two countries.