Security briefing on CPEC held in Karachi, security of CPEC workers discussed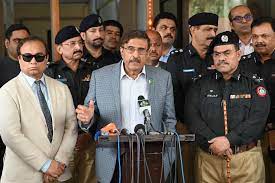 Karachi: A security briefing on Chinese nationals working on projects related to the China-Pakistan Economic Corridor (CPEC) was held here.
Sindh Caretaker Minister for Home and Prisons, Sindh Brigadier Haris Nawaz (retd), organized a special meeting to evaluate the law and order situation in the province.
The meeting emphasized the top priority of ensuring foolproof security for CPEC workers in all development projects.
The meeting was participated by senior officials from the Sindh Home Department, Karachi Police, Pakistan Rangers (Sindh), various intelligence agencies, and a representative from the National Database and Registration Authority (NADRA).
The Home Minister praised the efforts of departments like Rangers, Police, and the district administration for their roles in providing facilities for returning migrants.
He urged the acceleration of the deportation process and proposed weekly follow-up meetings to monitor progress.
The Finance Department Sindh has already allocated funds for the ongoing repatriation process, with an emphasis on transparent handling of expenses.
The Home Minister stressed adherence to rules and regulations governing these costs and suggested implementing a mechanism for transparency.
The city police chief briefed the Home Minister on overall law and order issues, focusing on street crimes. The Home Minister highlighted the government's responsibility to safeguard lives, property, and maintain peace.
He called for enhanced security measures at all levels, in coordination with police, rangers, and intelligence services.
Drug trafficking, especially within educational institutions, was discussed, with instructions to intensify operations against those involved.
The Home Minister stressed that CPEC was a massively beneficial plan and the Pakistani authorities were committed to make it a huge success by ensuring complete security and supporting timely completion of the projects.