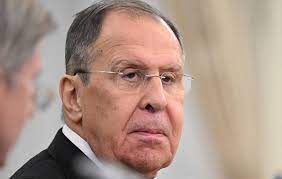 Moscow: Russian Foreign Minister Sergei Lavrov accused the European Union of attempting to drive Russia out of Central Asia, and said the bloc was failing, in an interview broadcasted Sunday.
Moscow's sway over a region it considers its sphere of influence has waned since the offensive in Ukraine, with Europe, Russia, Turkiye, Iran and China all vying for influence in Central Asia.
"The European Union isn't hiding its intentions to restrain (Russia) in every possible way and push it out of Central Asia and the South Caucasus," Lavrov said.
"These attempts are futile. We have been historically present there and are not going to disappear," he said.
Lavrov was giving an interview on the sidelines of a visit to Kazakhstan this week, during which Russian President Vladimir Putin met with his Kazakh counterpart Kassym-Jomart Tokayev.
The Russian leadership's trip to Kazakhstan came a week after a separate visit to the country by French President Emmanuel Macron.
The French leader had praised a country "which refuses to be at the bottom of the subjugation of a few powers," an implied reference to Russia.
Lavrov responded, saying Macron's statements were "quite brazen, for diplomatic language."
Kremlin spokesman Dmitry Peskov said Western countries were investing in Central Asia for the sake of ousting Russia.
Former Soviet republics in Central Asia – which are seeking to diversify their international partnerships – saw a flurry of diplomatic activity this week, including with the Turkish and Iranian leaders visiting Uzbekistan.