People won't tolerate any 'selected govt' again: Bilawal Bhutto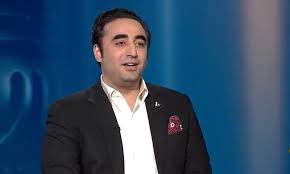 Mithi: Pakistan People's Party (PPP) Chairman Bilawal Bhutto Zardari has said that the people have faced "selected government" for the past five years, and they will not tolerate any such move in the future.
He expressed these views while celebrating Diwali with party workers and the people of Tharparkar in Mithi on Monday.
During his address, the PPP chairman said certain entities promote politics of hatred and division but they would never want the era of 90s politics to return.
Despite the elections being just a few months away, the election schedule has not yet been announced, he said, adding that he did not seek support from the left or right instead looked to the people for his election.
He expected many political parties will be shocked after the results of the Feb 8 elections.
Bilawal said poverty alleviation was essential for national progress for which his party had taken up several initiatives.
"The manifesto of the People's Party is the charter given by the Zulfikar Bhutto. Bhutto is our manifesto; Islam is our religion, democracy is our politics, equality is our economy, and the people are the source of power. On this slogan, the PPP has won elections under the leadership of Benazir," said Bilawal.
"Demanding food, clothing, and shelter for every human is not just an old slogan. As long as there is inflation and poverty, this will remain the slogan and manifesto of the Pakistan Peoples Party," the PPP chairman added.
Bilawal stated that before the People's Party government in Tharparkar, there were no roads, airports, or educational and health institutions. In the 1990s, Benazir envisioned the development of Thar Coal, he added.