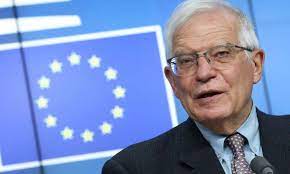 Brussels: European Union officials are finalising the "last details" of a proposed 12th package of sanctions on Russia that will include a diamond ban, EU foreign policy chief Josep Borrell said on Monday.
Borrell said the European Commission, the EU executive, could approve the proposed package on Wednesday.
It would then go to the Council of the EU, comprising the bloc's 27 member countries, for discussion and approval.
Since the Russian invasion of Ukraine in February 2022, the EU has already applied 11 packages of sanctions against Moscow to diminish the Kremlin's ability to finance the war.
The measures span across sectors and include some 1,800 individuals and entities.
"This twelfth package will include … new export bans, among them … diamonds, actions to tighten the oil price cap, in order to decrease the revenue that Russia is getting from selling its oil – not to us but to others – (and) fighting against circumvention," Borrell told reporters after a meeting of EU foreign ministers.
EU diplomats told Reuters last week said the 27-nation bloc had been waiting for a G7 green light to move ahead with the diamond ban.
An EU official said the current timing for a European Commission proposal for the package, that would then be debated by the EU's 27 governments, was "early next week".
"We are finalising the last details of this package," Borrell said.