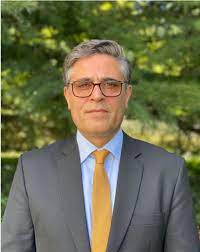 Beijing: The newly appointed Ambassador to Pakistan Khalil Hashmi on Monday assumed charge of his office.
In his first official engagement, Ambassador Hashmi presented a copy of his credentials to Hong Lei, Director General of the Protocol Department of Chinese Ministry of Foreign Affairs.
Ambassador Hashmi, in his remarks, expressed gratitude to the Chinese side for the warm welcome accorded to him, in keeping with the long-standing tradition of both countries.
Reminiscing of his previous stint in Beijing from 2008-2010, he expressed his resolve to further solidify the already-robust relationship between the two countries.
Director General Hong conveyed the best wishes to Ambassador Hashmi for a successful tenure and assured him of full support.
Earlier on his arrival in Beijing in the weekend, he was by Zhang Maoming, Deputy Director General of Asia Department. He succeeds Ambassador Moin ul Haque who returned to Pakistan on retirement early this month.
Ambassador Hashmi is a senior Pakistani diplomat with 29 years of experience in both bilateral and multilateral relations.
Prior to his recent appointment, he served as Pakistan's Permanent Representative to the United Nations in Geneva from November 2019 onwards.
He has also worked at Pakistan's Permanent Mission to New York twice, including as Deputy Permanent Representative.
Ambassador Hashmi joined the Pakistan diplomatic service in 1994. His first diplomatic assignment was at Pakistan's Embassy in Copenhagen from 1999 to 2002.
In Islamabad, Ambassador Hashmi served as Director General of the United Nations, European Region and Arms Control Divisions and as Director of South Asia, India and Disarmament Directorates.