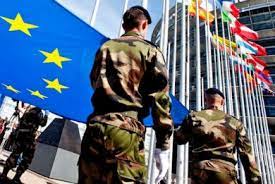 Brussels: At the Steering Board of the European Defence Agency (EDA), the 27 EU Ministers of Defence approved the 2023 EU Capability Development Priorities Tuesday.
The document serves as a baseline for EU-wide defence planning, and all EU defence-related initiatives. The 22 priorities reflect the military realities observed in Ukraine; support EU defence objectives; and are designed to lead to concrete projects.
Persistent underinvestment and insufficient European cooperation have created substantial defence capability gaps. The twenty-two priorities agreed today address the need for full-spectrum defence capabilities, enabling high-intensity operations. They include fourteen priorities across five military domains, and eight related to strategic enablers and multipliers.
Head of Agency and HR/VP, Josep Borrell said: "The newly adopted military Capability Development Priorities will provide us with an impactful and actionable framework that will guide defence planning and all EU defence initiatives. In line with the objectives of the Strategic Compass, the new priorities will allow our Member States and their armed forces to maintain freedom of action and be better prepared to respond to an ever-changing and increasingly deteriorating security environment. Now is time to translate these priorities into concrete defence cooperation projects to ensure more resilient, agile and robust European armed forces, ready to tackle present and future threats."
The priorities – developed with an equal focus on short, medium, and long-term planning – emphasise harnessing cutting-edge capabilities and strengthening European armed forces. Moreover, they address current operational realities and being ready to face future threats and challenges. These priorities, among others, include:
Land Based Precision Engagement: The range, precision, and mobility of land-based precision strike capabilities must be extended and enhanced, including in quantitative terms, with enhancements in large-calibre ammunition stockpiles, advanced anti-tank systems, versatile close fire support, and resilience against cyber threats.
Integrated Air and Missile Defence: Encompasses all surface-based capabilities facing an airborne threat. Priorities in this area focus both on upgrading current air defence systems, and on developing next-generation systems with space-based early warning, and counter-Unmanned Air Systems capabilities.
Underwater/Seabed Warfare: Enhancements in seabed warfare, underwater protection, and anti-submarine capabilities with advanced autonomous underwater vehicles, and surveillance systems.
Sustainable and Agile Logistics: Incorporates capabilities to facilitate the projection, sustainment, and effectiveness of forces. Key areas include shared stocks and common warehousing, logistics footprint and strengthening maintenance requirements to deal with extreme weather conditions.
Cohesive and Well-Trained Militaries: Centres on the development of professional military education, training, and ability to adapt to an ever-changing environment, and to operate in new military domains, such as space and cyber.
EDA Chief Executive, Jiří Šedivý said: "These priorities are a significant step in strengthening the EU's capabilities, extending beyond traditional equipment and platforms to encompass a broader operational perspective. The 22 priorities also look to future threats over the medium- and long-term time horizon."
The 2023 EU CDP reaffirms the long-standing priorities and balance them with new ones arising from the profound shift in the EU's strategic environment. The newly adopted set of priorities also reflect the objectives of the EU's Strategic Compass and the military realities observed in Ukraine, including high-intensity requirements, and is therefore fully coherent with NATO.
Amongst the key lessons observed in the context of Russia's war of aggression against Ukraine is the necessity for agile, mobile, interoperable, technologically advanced, energy efficient, and resilient full spectrum land forces. Moreover, the Ukraine context highlighted the importance of multilayer Integrated Air and Missile Defence, along with an appropriate rebalance between the qualitative and quantitative dimensions in many capability areas.
Over the last 18 months, EU Member States worked together with EDA and the EU Military Staff, to assess and conceptualise the various dimensions of military capability requirements.
The agreed priorities will serve as the baseline for all EU defence related initiatives and instruments, such as the Coordinated Annual Review on Defence (CARD), the Permanent Structured Cooperation (PESCO), the European Defence Fund (EDF) and any future EU defence supporting tools. In line with the Strategic Compass, this set of priorities shall also serve as a prime reference for national planning. In addition, they provide a valuable overview of the capability development landscape for the defence industry.
After today's endorsement, the focus will be on the implementation of the new set of priorities.
These priorities will be the driver for capability-led research and innovation activities, informing the research agenda and engagement with industry.
EDA will steer the collaborative activities aimed at implementing these priorities, establishing a clear, correlation from priority to action.
EDA will use the third CARD cycle and bilateral dialogues with each EU Member State as a forum to support implementation and possible cooperative capability development activities with others.