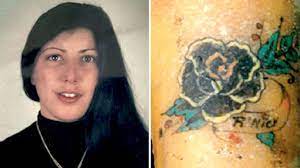 London: A British woman has been identified more than 30 years after her murder in Belgium, following the launch of a landmark police campaign.
Rita Roberts' family spotted her distinctive tattoo in a BBC report, according to policing agency Interpol.
The last contact the 31-year-old had with her family was via a postcard in May 1992. Her body was found the following month.
Her family said the news was "shocking and heartbreaking".
"Our passionate, loving and free-spirited sister was cruelly taken away," they said in a statement, shared by Interpol. "Whilst the news has been difficult to process, we are incredibly grateful to have uncovered what happened to Rita."
Ms Roberts was one of 22 murdered women who police in Europe were seeking to identify through a campaign launched earlier this year, called Operation Identify Me.
The campaign marked the first time Interpol had gone public with a list of so-called black notices, seeking information about unidentified bodies. Such notices are normally only circulated internally among Interpol's network of police forces throughout the world.
Most of the victims were aged between 15 and 30. The full list – available on Interpol's website – includes details about the women, photographs of possible identifying items, and, in some cases, new facial reconstructions and information about the cases.
Ms Roberts had travelled from her home in Cardiff to the Belgian city of Antwerp in February 1992. Her body was found lying against a grate in a river four months later, after she had been violently killed.
Her family said she was "a beautiful person who adored travelling" and loved her family, adding: "She had the ability to light up a room, and wherever she went, she was the life and soul of the party. We hope that wherever she is now, she is at peace."
Interpol's head of police services, Stephen Kavanagh, said a family member identified her after spotting her tattoo – a black flower with green leaves and "R'Nick" written underneath – in a BBC News article, published in May this year.
"A member of Rita's family [saw] the Identify Me appeal through the BBC and suddenly realised there may be an opportunity that a lost member of their family had actually come to harm," he said.
After recognising the tattoo, the family met with investigators in Belgium and formally identified her.
"There's a terrible contradiction here – we're proud that we've been able to work with member countries, we're proud that we've been able to identify this poor woman, Rita, but we're also devastated for the family because they've lost a loved one through brutal circumstances," Mr Kavanagh said.
Belgian authorities are now calling on the public to come forward with any information they have about Ms Roberts or the circumstances surrounding her death.
Since Operation Identify Me was launched in May, police say they have received about 1,250 tips relating to the 22 women whose bodies were discovered in The Netherlands, Belgium and Germany.
Information has included possible names of victims and potential leads about clothing and jewellery the women were wearing.
Mr Kavanagh said police were still pursuing leads on the other 21 cases and were hopeful that Ms Roberts' identification was "just the beginning".
The campaign was initiated by Dutch police, who were struggling to identify a woman whose body was discovered in a wheelie bin floating in a river on the outskirts of Amsterdam, in 1999.
Other cases include a woman's body found wrapped in a carpet and bound with string at a sailing club in Germany, in 2002.
"Each of these women were individuals, with families, with friends, with partners, with ambitions. And they've all come to harm in brutal circumstances," Mr Kavanagh said.
"We as global law enforcement have got an opportunity now to try and identify them… and bring closure."