Bilawal Bhutto says people to surprise 'planners' on February 8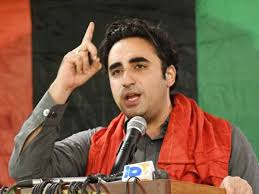 Mithi: Pakistan People's Party (PPP) Chairman Bilawal Bhutto asserted that the people of Pakistan would surprise 'planners' on February 8th – the date for general elections.
Addressing a public gathering in Mithi, the former foreign minister said that people would respond to those who were 'planning election results' while sitting in the room.
In reference to Pakistan Tehrik-e-Insaf (PTI), Bilawal Bhutto said that the people of Pakistan will not accept "selected raj (selected government)" anymore.
"People bore selected raj for five years, but now any selected raj is unacceptable."
He also castigated Imran Khan-led PTI, saying that people would also answer those who attacked the state installations on May 9 in the upcoming general elections — scheduled to take place on February 8, 2024.
"We have some friends who think that they will contest elections by copying the PTI. But they will fail," he said, in an apparent reference to Pakistan Muslim League-Nawaz (PML-N).
The PPP chairman added that people will give a "surprise" in the next elections and defeat the Mahengai-league on February 8.
Anticipating a potential victory in the general elections, Bilawal vowed to complete the unfinished mission of Zulfikar Ali Bhutto.
Bilawal outlined plans for initiatives such as the introduction of a Haari Card, aimed at assisting farmers with fertilisers and seeds.
He expressed confidence that the enthusiasm witnessed in the rally had already determined Tharparkar's stance in favour of the PPP.
Reiterating the party's commitment, the PPP chairman pledged to eradicate poverty, unemployment, and inflation from the country.
Bilawal Bhutto attributed Tharparkar's development to the PPP's performance, challenging critics to evaluate the progress made in the region under their governance.
He also dismissed the notion of any political opponents, saying that the party's true adversaries are unemployment, inflation, and poverty. He affirmed the party's commitment to fight these issues collectively and restore the people's rights.
The Election Commission of Pakistan (ECP) notified general elections on February 8, 2024. The electoral watchdog issued a notification of the date of the general election under Section 57 of the Election Act?
The notification said that in light of the Supreme Court's order, the general elections will take place on February 8, 2024.
The notification was issued by the ECP after, the Supreme Court declared February 8, 2024, as the date for holding general elections across the country after the ECP submitted the record of meeting with the president.