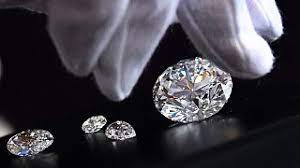 Brussels: Diamonds may be forever, but not when it comes to imports from Russia into the European Union.
Russia is the biggest producer of rough diamonds cut from hundreds of mines beneath the Siberian permafrost, where a third of the world's diamond supply comes from.
Now the European Commission has proposed extending to diamonds a series of sanctions imposed on Russia since its full-scale invasion of Ukraine.
The move is part of the EU's 12th round of measures against Moscow, due to come into effect in January. It is linked to the G7, which is also discussing a ban.
Since 2022, EU sanctions have covered Russian coal, gas, gold, vodka and even caviar.
But diamonds mined in Russia's north-east are still used in engagement rings, necklaces and earrings all over the world.
The EU has until now avoided a ban, largely because Belgium has been keen to protect the city of Antwerp: the diamond capital of the world.
The Flemish-speaking port city has been a diamond hub since the 15th Century. More than 80% of all rough diamonds mined across the globe are traded here, and before the war one in four of them came from Russia.
The cobbled streets of Antwerp's diamond district are lined with shops, their windows filled with sparkling jewellery. There are security cameras everywhere, in an area of about one square mile.
"Russia was a very big business for Antwerp: shifting your whole business to a new supplier gives you a lot of headaches," says Thierry Tugendhaft, who's been a diamond dealer for more than 30 years.
"Importing non-Russian diamonds is going to be expensive because everyone will be going after the same suppliers."
That means they will become more costly for the average consumer too.
In a corner of his office, Thierry opens a safe of colossal proportions and takes out a small white envelope, folded in half. Inside are three glistening, perfectly polished diamonds.
Before the war, half of all his stones came from Russia. Their allure lay in their high quality, their shape – and availability.
A final decision on the European Commission's proposed ban will be taken by the EU's 27 member states in the coming weeks.
But many of Antwerp's diamond dealers saw it coming and had already come under pressure from businesses they trade with to halt supplies from Russia.
Mr Tugendhaft now sources his imports from a mine in Canada, but some of his colleagues haven't been so lucky.
"Some of the companies who were big traders in Russian diamonds went out of business. They were very reliant on Russia."
Critics have long complained that importing Russian diamonds is unethical, because much of the money flows straight to the Kremlin.
More than 90% of Russian diamonds are produced by a single company called Alrosa – which is mostly owned by Russian government entities.
Last April, the US banned imports of rough diamonds from Russia and imposed sanctions on Alrosa.
In the first half of 2023, Alrosa generated a revenue of $1.9bn (£1.7bn).
"There is a direct link between buying Russian diamonds and financing the war in Ukraine," says Filip Reyniers, director of IPIS – a research institute based in Antwerp.
"Russian diamonds should be considered as conflict diamonds."
Also known as blood diamonds, conflict diamonds are gems sold to finance war.
The ongoing war means that Russia needs the cash.
"Russia is desperate for money to fund its war, and that's why Russian diamonds are becoming cheaper," says Tobias Kormind, managing director of 77 Diamonds – one of the largest online diamond jewellers in Europe.
He stopped importing Russian gemstones within a few weeks of the Ukraine invasion – which has resulted in higher costs for his business – and he believes the rest of the industry should have taken a firmer stance.
"Because it's cheaper to buy from Russia, what many do is turn a blind eye – and not disclose that they are sourcing their stones from Alrosa," he said.
As it is so difficult to know for sure where a diamond comes from, a ban is very hard to enforce.
"Unlike other products, like coffee, tea or chocolate, the diamond trade has never been transparent," says Filip Reyniers from IPIS. "A diamond doesn't travel with a certificate of origin, diamond parcels are often mixed… so it's very difficult to know the source."
Diamonds can change hands 20 to 30 times between mine and market. That lack of traceability is why the trade is so attractive to criminal activity, and why critics say an EU ban is flawed.
"This is something that does not exist sector-wide today," said Filip Reyniers. "For this ban to work, there has to be a real assurance that you can absolutely trace the origin of your diamond."
The major complication is that 90% of the global diamond supply is shipped abroad to be cut and polished – regardless of where it's been mined.
Most of these diamonds end up in factories in India.
And once the diamonds are polished and ready to be shipped, they become labelled as of Indian origin.
Analysts say that it's essential this major loophole is closed. But so far, Indian Prime Minister Narendra Modi has defied Western to scale back economic ties with the Kremlin.
"If India doesn't get on board, the ban won't work," said Reyniers.
"There are half a million people involved in the diamond industry in India," said trader Thierry Tugendhaft. "They need their livelihoods, they don't want to lose their jobs."
But Western countries account for about 70% of global demand for diamond jewellery – and there is an urgent sense that something needs to be done.
"Russian diamonds have come to symbolise war and human rights violations," said Belgian Prime Minister Alexander De Croo in September.
And there is a belief that EU sanctions will make an impact.
"Some Russian diamonds will still enter the European market," said Filip Reyniers. But he believes the ban will lead to fewer people buying jewellery that funds the Kremlin's war in Ukraine.