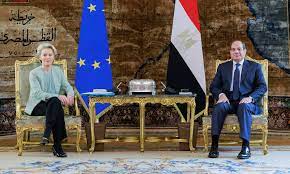 Cairo: European Commission President Ursula von der Leyen on Saturday said she was opposed to the "forced displacement of Palestinians" during a meeting in Cairo with Egyptian President Abdel Fattah al-Sisi.
Von der Leyen "thanked Egypt for its key role in providing and facilitating humanitarian aid to vulnerable Palestinians", during her meeting with Sisi, she wrote on X, formerly Twitter.
The two discussed "the ongoing humanitarian crisis in Gaza" and a "political horizon based on a two-state solution", she added, as Israel presses its military campaign in the Gaza Strip following the October 7 Hamas attacks.
At least 12,000 people have been killed in Gaza, including 5,000 children, since Israel began its assault on the Palestinian territory last month, according to the Hamas government.
Hamas health ministry says more than 80 dead in strikes on refugee camp
The war was sparked by the Hamas attacks that saw fighters break through the heavily militarised border with Israel, killing about 1,200 people, mostly civilians, and taking about 240 hostages, according to Israeli officials.
Von der Leyen later arrived in North Sinai for the arrival of a European Union humanitarian convoy, the governor of the Egyptian border region said in a statement.
"She is expected to… inspect the Rafah border crossing and the aid and to visit wounded Palestinians" in North Sinai, the statement said.
International aid has for weeks arrived at the international airport in El-Arish, some 40 kilometres (25 miles) from the Rafah crossing with Gaza.
The border crossing – the only one to the Palestinian territory not controlled by Israel – has been the only entry point for aid trickling into war-ravaged Gaza.
During von der Leyen's last visit to Egypt in 2022, Israel and Egypt signed a deal to provide Europe with natural gas.
"Egypt is a big country with a large population, strategically located for us," a senior EU official said.
"We see new opportunities especially cooperation around energy and around hydrogen in the future," the official added.
Cairo has invested billions over the past years to develop its natural gas industry with a view to becoming a major exporter.
In August, researcher Sebastien Douget said "Egypt has the means to become the main hydrogen exporter to Europe in 2050 thanks to existing natural gas pipelines" that would be repurposed for hydrogen.
The European official also said that the issue of migration would also be on the agenda during von der Leyen's visit.