Coaches-concern Short rake of trains riles passengers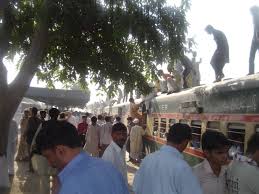 LAHORE, Sep 30 :Short rake of trains coupled with delay in their departure riled the rail passengers of Narowal section.
Women, families as well as old citizens expressed their anger over late departure of trains from Lahore railway station which is headquarters of the department.
Several passengers who travel by train on daily basis
demanded that trains should consist of approved number of
bogies as already they had been facing shortage of trains
due to closure of train at the section for about eight years.
Talking to APP on Sunday, Saeeda Bibi, a working lady
and daily commuter, said the 209 Up/210 Down Faiz Ahmad Faiz
Express train was running with only four or five coaches at
the section which was troublesome for passengers, especially
for women and children, adding that for almost a month,
trains were leaving and arriving late.
She urged to add more coaches in the rake as according
to the railway administration claim, 'services were improving'.
Nasir Bhatti, another passenger and businessman, said
that shortage of coaches was a big problem for commuters as
in some areas, trains were the only means of available transport,
adding that Narowal section was ignored always and trains were
being operated according to protocol which was injustice.
He said the capacity of a coach is only 88 passengers
and that the whole train capacity is for 350 people.
Despite the lack of space, some 2,000 passengers travelled by each
train run on Lahore-Narowal-Sialkot section, he added.
Sadia Munir, a student of local university said that for
almost one month, situation of coaches was very poor and women
had to face a lot of trouble due to heavy rush in the train,
especially 125 Up/126 Down Lasani Express.
She also demanded the railway administration to take
necessary action for the convenience of passengers, adding
that passengers of the Narowal section were also paying
excessive charges to railways but this section was always
ignored.
Passengers demanded that at least seven to eight bogies
should be attached to the passenger train while nine to ten
coaches should be attached with Lasani Express train so that
passengers, including women and children, could travel comfortably.
On contact, PR Divisional Superintendent Sufyan Sarfaraz
Dogar admitted that passengers were facing hardship due to
shortage of coaches.
He stated that technical reason was behind the coaches shortage, however the situation would be
improved in days of come.