Bye-Elections Bye-elections; CoC violaltions not to be allowed: ROs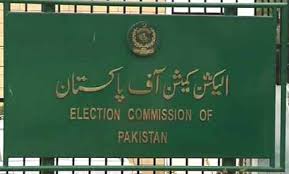 RAWALPINDI, Sep 30 :No one will be allowed to violate election Code of Conduct (CoC) issued by Election Commissioner of Pakistan
(ECP) for the Bye-elections 2018.
According to the Returning Officers of Rawalpindi district, action in accordance with the law would be taken against the violators. The public office holders cannot participate in the election campaign in any manner whatsoever, they said while talking to APP.
The bye-elections will be held on October 14 on the National and Provincial Assembly seats which became vacant due to death of contesting/returned candidates, resignation and postponement
of the elections.
The bye-elections will be held in Rawalpindi division on five National Assembly seats including, NA-56 Attock-II, NA-60
Rawalpindi-IV, NA-63 Rawalpindi-VII, NA-65 Chakwal-II and NA-53 Islamabad-II and two Punjab Provincial Assembly seats PP-3, Attock-III and PP-27 Jhelum-III.
Election Commission of Pakistan (ECP) has appointed District
Monitoring Officers (DMOs) and Monitoring Officers (MOs) to check violations of CoC announced for the Bye-Elections.
Deputy Commissioner Attock has been appointed DMO for Attock
District while Fayyaz Mehmood, Dy-DEO(M-EE) Jhand Attock and Zeeshan Ali, SDO, Highway Sub-Division, Fatehjang, Attock have been appointed MOs for NA-56, Attock-II constituency.
Zulfiqar Ali Raja Dy-DEO (M-EE), Hassanabdal Attock and Shamim
Akhtar, Dy-DEO (M-EE), Fatehjang Attock have been appointed monitoring officers for PP-3, Attock-III constituency.
Deputy Commissioner Rawalpindi has been appointed DMO for Rawalpindi district while, Assistant Commissioner, Cantt, Rawalpindi and Assistant Commissioner, City Rawalpindi have been appointed MOs for NA-60, Rawalpindi-IV.
Similarly, Assistant Commissioner, Saddar Rawalpindi and
Assistant Commissioner Taxila Rawalpindi have been appointed MOs to monitor election campaign of the candidates and political parties regarding any violation by a candidate or a political party of any provision of the Act, Rules or the CoC issued by the ECP for NA-63, Rawalpindi-VII.
Deputy Commissioner Chakwal has been appointed DMO for Chakwal District while Dr. Muhammad Sarfraz Chatta, Addll. Director Live Stock Punjab and Nadeem Anwar, XEN Public Health Department, Talagang have been appointed Officers of MOs for NA-65, Chakwal-II.
Deputy Commissioner Jhelum is District Election Commissioner for
Jhelum District and Assistant Commissioner, Pind Dadan Khan, District Jhelum and District Food Controller, District Jhelum have been appointed MOs for PP-27, Jhelum-III constituency.
Total 38 candidates are in the run for Oct 14 bye-elections for five NA two PA seats of the division.
The federal capital is included with the Rawalpindi division which comprises Rawalpindi, Chakwal, Attock and Jhelum districts by the Election Commission of Pakistan for holding of the bye-elections.
Eight candidates including Aftab Ahmed Qureshi, Asghar Ali Mubarak, Tehmina Sajjad Khan, Zahid Aqeel, Sajjad
Khan, PML-N candidate, Sheikh Rashid Shafique, PTI candidate, Muhammad Azhar Aslam and Muhammad Qaiser Mir Dad Khan
are in the run for NA-60.
Similarly, five candidates including Syed Haider Ali Shah, Syed Ishrat Ali Zaidi, PPPP, Aqeel Malik, PML-N, Qurban Ali and Mansoor Hayat Khan, PTI candidate are contesting for the bye-elections in NA-63.
Syed Faisal Mehmood Shah, Malik Khuram Ali Khan, PTI and Malik Sohail Khan, PML-N are contesting in NA-56, Attock-II. Chaudhary Salik Hussain, PML with Tractor symbol, Muhammad Amir and Muhammad Yaqoob are contesting election from NA-65, Chakwal-II.
Total 11 candidates including M. Sajid Abbasi, Khan Iftikhar Shahzada, PPPP, Syed Amjad Ali Shah, Abdul
Hafeez, Ali Nawaz Awan, PTI, Muhammad Zubair, Muhammad Sarwar Khan Abbasi, NasirMehmood, Nasir Munir Ahmed, Nafees Ahmed Murad and Waqar Ahmed, PML-N are in the run for NA-53, Islamabad-II constituency.
Similarly, three candidates namely Shahnawaz Raja, PTI, Muhammad Naveed Shahzad and Nasir Mahmood, PML-N are
contesting from PP-27, Jhelum-III while five candidate, Iftikhar Ahmed Khan, PML-N, Ayaz Khan, Sardar Muhammad Ali Khan,
Muhammad Akbar Khan, PTI and Muhammad Mushtaq Ali are contesting from PP-3, Attock-III.