Women-Alliance Working women alliance calls for better labour laws, quota for female employees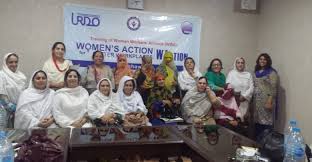 PESHAWAR, Sep 30 :Working Women Alliance (WWA) Khyber Pakhtunkhwa had urged the parliament and the provincial assemblies to improve the quality of labour legislation to make it consistent, applicable andin accordance with the law of the land and best international practices.Introduction of quota for women employees, at least 1/3rdof employees be women; Illegal labour practices should be reviewed and updatedaccording to current market demands says in a charter of demand presented by working
women Alliance in a women convention.
The Alliance had conducted the monitoring of various workplaces
at the Public, Private and Industrial employment sectors and interviewed 200women workers and found out that the working women are worst affected by thenon-compliance of labor laws in these employment sectors.
Women Workers' Alliance Peshawar is being facilitated by the
United Rural Development Organization (URDO) with the technical assistance ofTrust Democratic Education & Accountability (TDEA) under a project, WomenAction for Better Workplaces (WABW).
The convention wasattended by large number of working women, government officials, andentrepreneurs, members of CSOs, women parliamentarians, lawyers, mediarepresentatives, and academia.
The Alliancedemands to declare compulsory for the public, private and factories to providethe facility of separate washrooms, daycare and breastfeeding for the womenworkers.
The code of conducton anti-sexual harassment should also be displayed at prominent places in thoseorganizations, said the alliance.
The alliance noted that the violations of labor laws in the
public sector are assumed to be less than the other sectors, however, more than58 percent of public sector organizations either do not have protection againstSexual Harassment Committee, or even if the committee is notified it is noteffective. The code of conduct against sexual harassment is not displayed inmore than 85 percent of the public offices.It must be declared compulsory for these organizations to provide the facility of separate washrooms, day care and breastfeeding for the women workers.
Speakingon the occasion, Deputy Speaker Khyber Pakhtunkhwa Assembly Mehmood Jan Khan said that conducive atmosphere would be developed for women in every field so that
they could play their role with full confidence and courage. He said that the provincial government is providing every possible opportunity to womenfolk to include them in the process of national development and economic prosperity.
Mehmood Jan added that 50
percent of the population comprises of women and it is of utmost importance that they play an equally effective part in the labour force.
The convention was also addressed by Sharif Khattak, Deputy Director Labor Department, Humaira Khatoon MPA MMA, Former MPA Rashida Riffat JI.