GB-Court GB court upholds capital punishment to murderer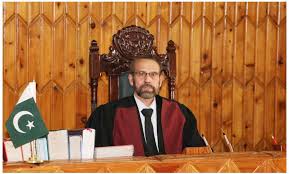 GILGIT, Oct 2 ::A division bench comprising Justice
Malak Haq Nawaz and Justice Ali Baig Tuesday upheld the verdict of lower court in Mustaqeem murder case and maintained capital punishment and a fine of Rs 0.5million on accused Jawahir Ali.
The bench conducted 59 hearings and announced verdict in
seven cases. The court upheld capital punishment to an accused in murder caseof Mustaqeem and directed that the accused will pay a compensation amount of0.5 million rupees to the heirs of the diseased.
The 11 pages verdict issued with signs of Malak Haq Nawaz said the accused will face the capitalpunishment and pay Rs 0.5 million as compensation to the heirs of the diseased.