Indonesia-quake-tsunami Church yields bodies as Indonesia toll expected to rise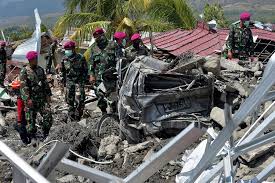 Palu, Indonesia, Oct 2:The bodies of dozens of students have been pulled from their landslide-swamped church in Sulawesi, officials said Tuesday, as an international effort to help nearly 200,000 Indonesia quake-tsunami victims ground into gear.
The discovery adds to the already-high death toll from Friday's disaster, when a powerful earthquake sent a devastating tsunami smashing into the seaside city of Palu.
At least 844 people are already known to have died, but officials say that number is certain to rise — perhaps into the thousands — as isolated communities are reached and the scale of the disaster becomes clearer.
Survivors are battling thirst and hunger, with food and clean water in short supply, and local hospitals are overwhelmed by the number of injured.
Rescue efforts have been hampered by a lack of heavy machinery, severed transport links and the scale of the damage.
As if to remind the world of the tectonic fragility of Indonesia, a series of quakes rocked the country on Tuesday morning, albeit hundreds of kilometres from Palu.
The Indonesian military is leading the rescue effort, but following an appeal for international help by the president, NGOs also have teams on the ground in Palu.
At a church in central Sulawesi that had been hit by a landslide, the Red Cross made a grim discovery.
"A total of 34 bodies were found by the team," Indonesia Red Cross spokeswoman Aulia Arriani told AFP, adding that 86 students had initially been reported missing from a Bible camp at the Jonooge Church Training Centre.
Arriani said rescuers faced an arduous trek to reach the mudslide and retrieve the victims.
"The most challenging problem is travelling in the mud as much as 1.5 hours by foot while carrying the bodies to an ambulance," she said.
Mountainous Sigi Biromaru district is one of those more remote regions, lying to the southeast of Palu city.
Indonesia is the world's most populous Muslim-majority nation but there are small pockets of religious minorities, including Christians, across the archipelago.
– Urgent need –
The United Nations Office for the Coordination of Humanitarian Affairs warned Monday that there were 191,000 people in urgent need of help after the quake-tsunami, among them 46,000 children and 14,000 elderly — many in areas that aren't the focus of government recovery efforts.
The dead — many yet uncounted, their bodies still trapped in the rubble of collapsed buildings — are also a source of concern for authorities.
In Indonesia's hot, equatorial climate, bodies quickly begin to rot and provide a breeding ground for fatal diseases.
At Poboya — in the hills above the devastated seaside city of Palu — volunteers have begun to fill a vast grave with the dead, with instructions to prepare for 1,300 victims to be laid to rest.
Trucks stacked with corpses wrapped in orange, yellow and black bags are bringing their load to the site, where the corpses are dragged into the grave as excavators pour soil on top.
– 'I lost her' –
In Balaroa, a Palu suburb once home to a housing complex, flattened trees, shards of concrete, twisted metal roofing, door frames and mangled furniture stretched out into the distance.
Dazed groups of people ambled over the wreckage, unclear where or how to start digging. Among them were three men looking for their younger brother.
Rescuers are racing against the clock and a lack of equipment to save those still trapped in the rubble, with up to 60 people feared to be underneath one Palu hotel alone.
Two people have been plucked from the 80-room Hotel Roa-Roa, Indonesia's search and rescue agency said, and there could still be more alive.
Desperate survivors have turned to looting shops for basics like food, water and fuel as police look on, unwilling or unable to intervene.
"The government, the President have come here, but what we really need is food and water." Burhanuddin Aid Masse, 48, told AFP.
Many survivors have spent the last days desperately searching for loved ones while dealing with the trauma of the disaster.
One survivor, Adi, was hugging his wife by the beach when the tsunami struck on Friday. He has no idea where she is now, or whether she is alive.
"When the wave came, I lost her," he said. "I was carried about 50 metres. I couldn't hold anything," he said.
Others have centred their search for loved ones around open-air morgues, where the dead lay in the baking sun — waiting to be claimed, waiting to be named.
The International Committee of the Red Cross said it was working to reunite families who had become separated during the disaster and was providing "forensic services" to those carrying out the grim task of identifying victims.