US-politics-Africa-Trump-Melania-diplomacy Melania Trump carves solo path in Africa visit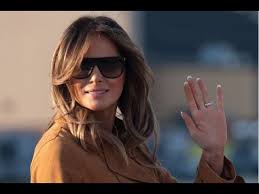 Washington, Oct 2 :Melania Trump left Washington — and her husband's shadow — Monday for a four-country tour of Africa that will give the glamorous and at times enigmatic first lady a chance to carve her own diplomatic path.
The trip to Ghana, Malawi, Kenya and Egypt, which sees Trump returning to Washington early October 7, will be her first big solo international trip. She boarded her plane late Monday from Andrews Air Force base, wearing a camel trench coat, large sunglasses and leopard-print stilettos.
Unlike her popular predecessor Michelle Obama, former fashion model Melania has kept largely to the background as Donald Trump alternately wows and dismays in a presidency he has turned into the biggest show on earth.
Spokeswoman Stephanie Grisham said Melania Trump's Africa tour will be a "diplomatic and humanitarian visit" focused on her #BeBest campaign for "children and their well-being."
There was little other information available about the trip, with only hours to go.
In typical fashion, it was Donald Trump who seized the headlines, telling journalists last week that his wife was "making a big trip to Africa."
"We both love Africa. Africa is so beautiful, the most beautiful part of the world, in many ways," continued the president, who was once reported to have dismissed the continent as a collection of "shithole countries."
But even if Donald Trump stole her thunder, there's no doubt that Melania Trump means to take ownership of the visit.
At a time when her husband's government is pushing for radical reductions of US aid around the world, Melania will "showcase" the work of the huge US Agency for International Development, or USAID, Grisham said.
"This is her trip, her initiative," Grisham added.