FATA-Reforms Govt to introduce reforms in FATA: MNA PTI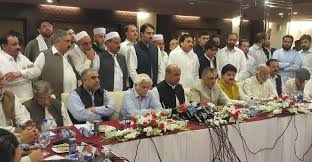 ISLAMABAD, Oct 2 :Pakistan Tehreek-e-Insaf (PTI) MNA Gul Zafar Khan Tuesday reiterated the incumbent government's commitment to bring reforms in FATA through ensuring provision of health, education and other facilities to the people of this neglected area.
While talking to PTV he was of the view that PTI's previous performance in KP was remarkable and is an example for those who are just raising questions over incumbent government performance adding after changing the fate of KP people and putting its departments on right direction now govt is focusing on FATA.
He stressed today the voters are mature enough and they know who is loyal for Pakistan and can secure the future of generations as PTI re-elected in KP that shows the confidence of masses over PTI.
He explained PTI not only introduced reforms in KP in the police, education, health and justice departments, but also made said departments quintessential for other provinces to follow adding asked opponents let the government complete its 100 days agenda first.
He stressed PM Imran Khan is courageous, patriotic leader and most important having the sympathy for masses and always support merit as all parliamentary sectaries are being appointed over merit.
Responding to a question he said he always welcomed the criticism as the parliamentary committee has been formed over election rigging allegation by opposition .
He assured police department would be depoliticized in Punjab too and reforms would be introduced in other departments, he said after few months or a year the public will appreciate the incumbent government over marvelous performance.