China to slash tariffs on US auto imports to 15%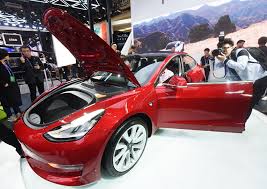 Beijing: China has agreed to reduce tariffs on U.S. autos to 15%, down from 40% currently, during a phone call with U.S. officials that opened the latest round of trade talks aimed at settling a trade dispute festering between the world's two largest economic powers.
Chinese Vice Premier Liu He informed Treasury Secretary Steven Mnuchin and U.S. Trade Representative Robert Lighthizer of the move in a phone call, Washington time, the person said, which restarted trade talks between the two nations. It wasn't clear when the change would take effect, but Washington is pushing Beijing to make concessions as soon as possible.
China raised its tariffs on U.S. autos as part of a tit-for-tat exchange of duties earlier in the year. The leaders of the two countries, President Trump and President Xi Jinping, meeting on the sidelines of a recent multilateral summit in Buenos Aires, agreed to a 90-day truce to negotiate a settlement to the festering trade frictions between the world's two largest economies.
The three senior officials discussed Chinese purchases of agricultural products and changes to fundamental Chinese economic policies during the phone call, other people familiar with the conversation said. They didn't provide further details.
China's Commerce Ministry, in a brief statement, said the conversationwas meant to "push forward with next steps in a timetable and road map" for negotiations. Liu plans to travel to Washington after the new year, people familiar with the matter said.