Tu-160 bombers return to Russia after Venezuela visit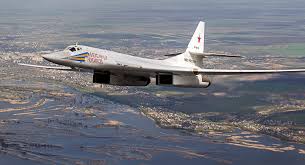 Moscow: Tu-160 strategic bombers have returned to their home airfield in Russia after a their visit to Venezuela, the Russian Defense Ministry's department of information and communications said.
"Long-range aircraft flew in the airspace over the Atlantic Ocean, Caribbean, Norwegian and Barents Seas," the defense ministry said. "Tu-160 strategic bombers flew over 12,000 kilometers and refueled in the air," the ministry added.
"During their visit to Venezuela, the pilots of long-range aircraft performed a routine flight in the airspace over the Caribbean Sea, receiving practical experience of fulfilling the flight task near the equator in the conditions of high humidity and temperature regimes, as well as of performing joint flights with crews of Venezuela's attack aircraft which accompanied Russian jets at different stages of the route," the defense ministry added.
"On the final day of the international visit of the delegation of the Aerospace Defense Forces, a meeting was held between Russia's Long-Range Aviation Commander Lt. Gen. Sergei Kobylash and Commander of Venezela's Air Force Divisional General Pedro Alberto Juliac Lartiguez," the ministry said adding that "participants in the meeting exchaned opinions on the flights of Russian and Venezuelan aviations crews."
The Russian commander also invited his Venezuelan colleagues to take part in the Aviadarts international competition held in the framework of the International Army Games 2019.