42 Dead As Bus Falls In Gorge In Himachal Pradesh, Many Were Sitting On Roof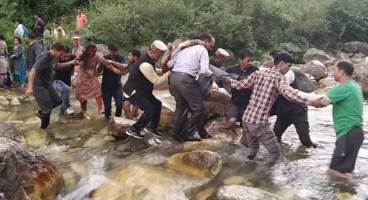 The private bus carrying nearly 70 passengers was on its way to Gada Gushaini from Kullu in Himachal Pradesh.Himachal Pradesh: A bus fell into a gorge near the Banjar area of Kullu.
The private bus was carrying around 70 people; many have been injured.Television images showed the green mangled remains of the bus.The incident took place near the Banjar area of Kullu
As many as 42 passengers were killed and more than 30 injured on Thursday after their bus fell in a gorge in the mountainous Kullu district of Himachal Pradesh, officials said. The number of deaths could rise as several passengers were sitting on top of the bus, reports said.
The private bus was filled with nearly 70 people when it plunged into a 500-foot deep gorge near the Dhoth Morh in Banjar tehsil of the district. The bus was on its way to Gada Gushaini, about 60 km from Kullu.
Kullu police chief Shalini Agnihotri told that authorities launched a rescue operation immediately and moved the injured to hospitals.
It appeared that having too many people onboard and reckless driving may have caused the accident, Sheetal Kumar, a government official told news agency PTI.Television images showed the mangled remains of the bus near a stream at the bottom of the gorge as locals made human chains to help survivors cross it. The injured were taken to the Banjar Civil Hospital and the Kullu district hospital.
Prime Minister Narendra Modi condoled the incident on Twitter.Himachal Pradesh Governor Acharya Devvrat and Chief Minister Jai Ram Thakur also expressed grief over the accident. The chief minister has ordered a magisterial inquiry into the incident.
Most of the victims were residents of various areas in Kullu district. The district administration announced an immediate relief of Rs. 50,000 each to the families of those killed and the injured.