Cricket-Pakistan Ex-cricketers express disappointment on Pakistan's exit from Asia Cup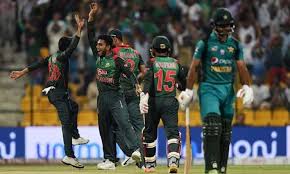 ISLAMABAD, Sep 27 :Former cricketers while disappointed on Pakistan's ouster from Asia Cup said they had not seen a more subdued and off-colour team in months.
Pakistan lost their decider Super 4 match to Bangladesh by 37, with Bangladesh qualifying for the final against India on Friday.
Former cricketer Ramiz Raja expressed his disappointment on Pakistan team and said that this was the most subdued Pakistan team in months.
"I have never seen a more subdued and off colour Pakistan team in months. Mistakes more mistakes and same mistakes! If its mistake manual had gone for printing it would have been a read of thousand pages," Raja tweeted.
Former skipper Shahid Afridi while congratulating Bangladesh for qualifying for the final, said he was upset with as Pakistan team the lacked attacking in all departments and urged for more hard work.
"Congratulations Bangladesh. Disappointed by Pakistani team's overall performance. Lacked attacking play of cricket in all fields. It is a young side who performed well in the last tournaments and set our expectations high. More focus and practice is needed for a stronger comeback," Afridi tweeted.
Batting legend Javed Miandad urged Pakistan Cricket Board (PCB) to prolong its domestic cricket season up to six months in order to improve players.
"ODI cricket tournaments should be increased and all national team players must be bound to participate in the six month long season," he said and added that then best performing players must be picked.
Responding to a question on skipper Sarfraz Ahmed's performance, he said Sarfraz's batting is not up to the mark.
Miandad, who coached Pakistan cricket team at various occasions, also advised PCB to bring in former or first class cricketers at regional and district levels in order to utilize their talent for uplift of the game. "We have a lot of talented former cricketers all over the country and we must utilize their services to develop cricket," he said.