UN-Pak-Peacekeeping "' Pakistan will continue to be leading troop contributor to UN peacekeeping: FM Qureshi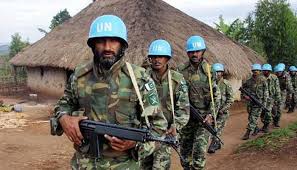 UNITED NATIONS, Sep 26 :Pakistan has called for ensuring that the mandates of U.N. peacekeeping missions are crafted to deal with the changing and growing asymmetric threats and equipped with resources commensurate with their operational requirements in the world's troubled regions.
"That UN peacekeeping is a success story is due in large measure to the ultimate sacrifice of men and women in the field," Foreign Minister Shah Mehmood Qureshi told a high-level meeting marking the 70th anniversary of UN peacekeeping operations, at UN Headquarters in New York.
"We salute them and extend our deepest gratitude," he said of the UN peacekeepers who laid down their lives while serving in hostile environments.
The foreign minister also highlighted that Pakistan, as a top troop contributing country to UN peacekeeping, had provided over 200,000 troops in 46 peacekeeping mission since 1960s, 156 of its bravest had given the ultimate sacrifice for the cause of peace.
Welcoming UN Secretary-General Antonio Guterres' Action for Peacekeeping (A4P) initiative, Qureshi cautioned that it was vital to maintain a balance between various components of peacekeeping missions. Ensuring effective implementation in letter and spirit of the initiative was also necessary for achieving desired effects on ground.
The foreign minister also emphasized the importance of rationalizing and prioritizing mandates of peacekeeping missions.
Pakistan, he said, would always be supportive of efforts to improve peacekeeping performance. Pakistan was first country to endorse the declaration, something that had been specifically appreciated and acknowledged by the Secretary General.
The A4P initiative aims at addressing strategic and operational challenges faced by contemporary peacekeeping.
A Declaration of Shared Commitments was formally adopted at the event by member states. In the Declaration, all stakeholders of UN peacekeeping; UN Secretariat, Security Council, General Assembly, troop and police contributing countries (TCCs) ,host states, financial contributors, and regional organizations committed to acknowledge and fulfill their respective roles for the success of peacekeeping missions.