Turkey-Economy Turkey's foreign trade deficit down 59 pct in August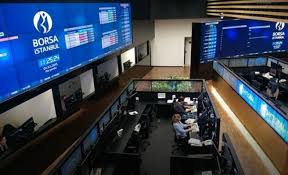 ANKARA, Sep 28:Turkey's foreign trade deficit saw an annual fall of 59 percent in August, the country's statistical authority
announced on Friday.
According to TurkStat, Turkey's imports decreased by 22.7 percent year-on-year to $14.8 billion in August, while exports fell 6.5
percent to $12.4 billion.
Last month, the country's foreign trade deficit amounted to $2.4 billion, down from $5.9 billion in the same month last year.
"In August 2018, exports coverage imports was 83.6 percent while it was 69.1 percent in August 2017," TurkStat said.
TurkStat noted that the main market for Turkish exports was Germany with $1.12 billion, followed by the U.K. with $900 million, Iraq with $648 million and the U.S. with $637 million.
"In August 2018, the top country for Turkey's imports was Russia with $1.55 billion.""The country was followed by China with $1.44 billion, Germany with $1.27 billion and the U.S. with $920 million," it added.
The institute noted that the ratio of manufacturing industries products in Turkey's total exports was 94.9 percent last month, while the figure was 75.5 percent for imports.
In the eight-month period, exports totaled $108.6 billion with an annual hike of 5.2 percent, and imports were $157.8, going up 5.9
percent year-on-year.
From January to August, Turkey's foreign trade balance showed a deficit of $49.2 billion, while the amount was $45.7 billion over the
same period last year.
Official figures showed that the European Union was the number one trade partner of Turkey in January-August this year.
Turkey's exports to the EU totaled $54.7 billion, accounting for 50.3 percent of all exports, while the country's imports from the 28
-member bloc were $58 billion.
Near and Middle Eastern region was the second largest export market for Turkish products with some $19 billion, followed by the
African countries with around $9 billion.
On the imports side, the EU was followed by the countries in Asia with an amount of $49.8 billion.
In 2014, Turkey's exports hit an all-time high of $157.6 billion while the figure was nearly $157 billion last year.
Over the past five years, the highest export-to-import ratio on a yearly basis was recorded in 2016 with 71.8 percent, while Turkey's
foreign trade deficit has fallen from $99.8 billion in 2013 to $76.8 billion in 2017.