ICCI-Asad Govt has no plan to go for IMF programme instantly: Asad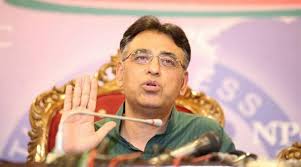 ISLAMABAD, Sep 28 :Minister for Finance Asad Umar Friday said that Pakistan had no plan to go for a programme with International Monetary Fund (IMF) instantly to get fresh loans.
Talking to media after addressing a business community here at Islamabad Chamber of Commerce and Industry (ICCI), Asad Umar
said Pakistan was currently engaged with the IMF team who is on a visit to Pakistan, for review mission negotiations.
He said review talks with IMF team were a matter of routine job after completion of programme.
However he said that whenever Pakistan would need to start a new programme with IMF, the current negotiations would act as a base
for it.
Earlier in his address to business community, the minister said the government was working to separate the tax policy and tax
connection functions as part of tax reforms to facilitate the taxpayers.
He said a Tax Policy Board would be formed and business community would also be given representation in that Board.
The minister was addressing business community here at Islamabad Chamber of Commerce & Industry after inaugurating the newly
constructed Export Display Centre (EDC) building of ICCI.
Asad Umar urged upon ICCI to develop a Master Economic Plan of Islamabad keeping in view the natural endowments of this
region and share it with the government so that the available endowments of the region could be exploited for the economic
development of Islamabad.
He said ICCI should also prepare recommendations to guide the government which types of industries should be set up in the
planned Especial Economic Zone in Islamabad.
However, he said that Islamabad has good potential for ICT industry as 27 higher education institutes were producing educated
youth including IT professionals in the federal capital.
Asad Umar said that the economy was undergoing bypass and would improve with the efforts of the government. He said
government was working on a plan to provide 100-million-gallon water per day to Islamabad that would resolve water shortage issue
and would also benefit the local industry in Islamabad. He assured that the government would cooperate with ICCI for new industrial
estate in Islamabad.
Speaking at the occasion, President, ICCI Sheikh Amir Waheed said that a new industrial estate was badly needed in Islamabad for
industrialization as there was no further space in the available industrial estates for setting up new industries. He urged that the
government should provide suitable land in Islamabad for this project.
He said almost 90 percent issues of trade and industry were related to CDA and government should appoint sitting President ICCI as
member of CDA Board that would help in smooth resolution of key issues of business community. He also briefed the Federal
Minister for Finance about the purpose of constructing Export Display Centre and hoped that it would contribute towards promoting
exports of the region.