Employment-Youth-Japan Japan to be main destination for youth by offering maximum job opportunities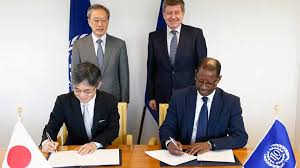 ISLAMABAD, Sep 28 :Japan will emerge as the main destination for youth from across the world since it will be offering maximum jobs opportunities in the wake of new economic reforms and Pakistani should put up optimum efforts to get the chunk during next seven years.
This was pointed out by Director General (DG) BEOE Kashif Ahmed Noor
in an exclusive chat on Friday.
He said "Japan will be generating around 0.5 million jobs in different sectors including construction, agriculture, nursing care, lodging, ship-building and manufacturing in next seven years."
Terming the opportunity a blessing in current employment scenario, Kashif said the Bureau was in the process of consultation with authorities concerned for exploring new job ventures in this particular market.
It will definitely help redress drastic decline of over 0.7 million in overseas employment, witnessed during the last couple of years due to massive reforms in Gulf countries, he added.
He said the department had also proposed to take up the matter with Economic Affairs Division for inclusion of manpower export in next Pak-Japan high level Economic Policy Dialogue, besides requesting the Ministry of Foreign Affairs to sign Memorandum of Understandings with Japan for export of manpower.
He stressed to evolve an effective strategy for reviving Japanese language culture in public-private varsities.
An official of Overseas Employment Corporation (OEC) said the matter had also come under discussion in a Senate Standing body on Overseas Pakistan two months ago.
He said some members of the committee had asked the OEC to impart the basics of the Japanese language to existing manpower for securing maximum jobs.
During the meeting, OEC Managing Director Dr Amer Sheikh, who is also head of Overseas Pakistanis Foundation (OPF), said the OPF's training wings would make arrangements for learning other countries' language, which was appreciated by the committee.
Responding to a query, the official said the OEC is mandated to mainly facilitate in case of Government-to-Government Contacts and this case is totally different.
Former OEC MD Saeed Sheikh appreciated the OEC's role in successfully sending the bulge of skilled workforce to South Korea.The OEC has already been working in with NUML in educating the aspirants about Korean language and urged
the authorities concerned to approach the well-reputed languages learning institutions for starting courses of Japanese language on war footing.
He said Japanese are moving towards big cities and there is full demand for Pakistani agricultural labour due to its ability of hard work in harsh and cold weather.