Japan-Scientists Japan's Nobel winner Honjo calls for more investment in basic sciences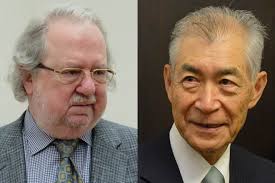 TOKYO, Oct 1:Japan's Nobel Prize winner Tasuku Honjo said
Monday that he would like to continue his research to save more cancer patients while calling for more investment in basic sciences.
Honjo and James Allison, a professor at the University of Texas in the United States, won this year's Nobel Prize in physiology or medicine for their discoveries leading to new approaches in fighting cancer.
Honjo and Allison "showed how different strategies for inhibiting the brakes on the immune system can be used in the treatment of cancer," said the Nobel Assembly of Sweden's Karolinska Institute.
Honjo told a press conference that he felt honored and happy for winning the award and would like to continue researching cancer for a while so that this immunotherapy will help save more cancer patients.
"Sometimes my patients kindly tell me that they owe their life to me after they recover from severe disease with this therapy … I'm truly happy at such a moment because I can realize my research was meaningful," he said.
He added that he would also be overjoyed if his winning the award would help facilitate the development of basic medical sciences (BMS) and provide inspiration and courage to BMS researchers.
He also called for more investment in basic sciences and more chances to be given to researchers, especially young researchers, citing the importance of fundamental scientific studies
and the fact that it might take decades for fruits of fundamental scientific studies to be turned "useful."
Honjo, 76, is currently a professor emeritus at Kyoto University. He is the fifth Japanese winner of a Nobel medicine prize.