NA-Firing Shehbaz strongly condemns unprovoked Indian firing at AJK PM's copter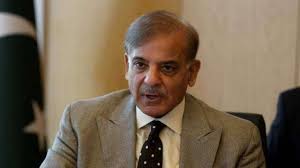 ISLAMABAD, Oct 01 :Leader of Opposition in the National Assembly Shehbaz Sharif Monday strongly condemned the unprovoked fire by Indian forces on the civilian helicopter of Azad Jammu and Kashmir Prime Minister Raja Farooq Haider, near the Line of Control (LoC) in Haveli district.
Speaking on a point of order in the National Assembly, he said a House committee should be constituted to prepare a unanimous resolution to condemn the Indian firing at the AJK
prime minister.Responding to the point of order, Minister for Information and Broadcasting Chaurdhry Fawad Hussain said the Foreign Office and the Pakistan Army had already issued
detailed statements in that regard. However, the government was ready to form a parliamentary committee to adopt a resolution for unanimously condemning the firing incident as desired by the opposition, he added.
Former NA speaker Sardar Ayaz Sadiq also condemned the firing incident and demanded to summon the Indian High Commissioner to protest it.