Burkina-attack-police 7 security forces killed in Burkina Faso blasts: sources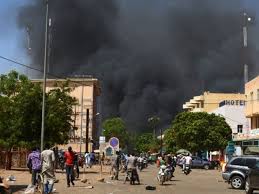 Ouagadougou, Oct 7 :Six police officers were killed in an ambush with an improvised explosive device in northern Burkina Faso, while another member of the security forces died in a blast in the country's east, security sources told on Saturday.
 The first attack took place late Friday on a police convoy in the town of Solle near the border with Mali.
"The leading vehicle ran over a mine and six were killed," one source said, adding that the convoy then came under gunfire leaving some other officers injured.
Another security source said that "at least" six police had died in Friday's attack, adding that a search for the attackers was underway in the area.
 Separately, one member of the Burkina Faso security forces was killed late Saturday and another was injured when a similar device exploded in the eastern town of Pama, according to a security source.