Nauru-Australia-msf-refugee-immigration Nauru orders MSF to stop work among asylum seekers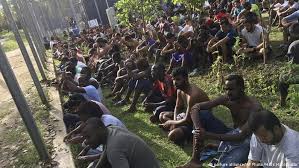 Wellington, Oct 7 :Nauru's government has ordered Medecins Sans Frontieres (MSF) to cease its work on the tiny Pacific island treating asylum-seekers and locals suffering from mental health problems, the medical charity said.
The country has come under fire over the treatment of asylum-seekers, including children, who are housed in Canberra-funded refugee detention camps under a controversial deal to prevent boat people setting foot on Australian shores.
"The Nauruan government informed Medecins Sans Frontieres/Doctors without borders that our services were 'no longer required' and requested that our activities cease within 24 hours," an MSF spokesman told AFP in a statement Saturday.
Detainees say medical services in the camps are limited and habitually overwhelmed because so many inhabitants suffer from psychological illnesses.
A 2016 report by the UN Committee on the Rights of the Child cited "inhuman and degrading treatment" of minors in the camp, "including physical, psychological and sexual abuse".
 An MSF spokesman said the charity was "extremely concerned that the health of our patients may be affected by this decision and urge the authorities to grant us permission to continue our lifesaving work".
There was no immediate comment from the Nauru government.
According to the MSF website, it has been providing psychological and psychiatric services on Nauru since late last year.
 "The lack of mental health support available affects both the Nauruan population and the asylum-seekers and refugees living on the island as part of the Australian government's policy of offshore processing," the organisation said.
"Our teams have identified cases of schizophrenia and family violence and concerning levels of depression in Nauru, especially among children."
 The United Nations has raised concerns that the indefinite detention of people who have committed no crime is unlawful.
However, Canberra denies mistreatment and says offshore processing is needed to stop deaths occurring when people-smugglers cram asylum-seekers into rickety boats for the treacherous voyage to try to reach Australia.