At least 19 people have been killed and dozens more wounded in a shooting at a college in Russian-annexed Crimea.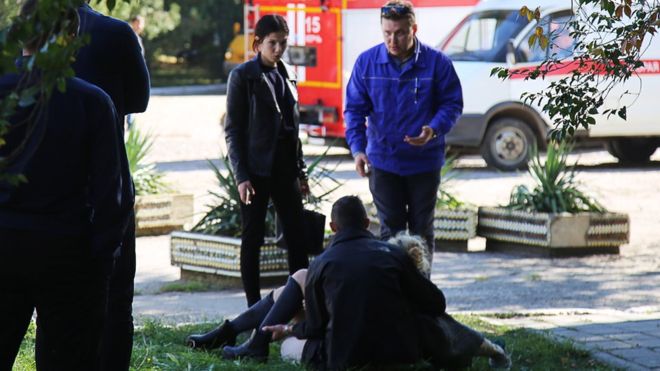 An 18-year-old student ran through the technical college in Kerch firing at fellow pupils before killing himself, Russian investigators say.Officials and witnesses have also spoken of at least one blast caused by an unidentified explosive device.
Russia seized Crimea from Ukraine in 2014 in a move condemned by many Western powers.
The annexation marked the start of a simmering conflict involving Russian-backed rebels in eastern Ukraine that goes on to this day.
The alleged perpetrator, named Vladislav Roslyakov, is said to have run from room to room as he fired, starting in the area near canteen. He then shot himself dead, Russia's investigative committee said.
At the same time, Russia's law enforcement sources are quoted by local media as saying that the attacker had detonated a bomb in the canteen before starting shooting. Several witnesses maintain they heard one or more explosions.
Investigators later said they found a second device among the personal possessions of the gunman and that it had been disarmed.
"I was at the epicentre of the first explosion, at the entrance, near the buffet," he said.
"I was in complete shock and one of my classmates started pulling me away. Then I heard several shots at intervals of two or three seconds. After a while there was another explosion."
National guard soldiers were deployed and schools and pre-schools in the city were evacuated.
A businessman near the college described hearing an explosion and seeing a large window shatter.