Hi-tea culture in Islamabad hotels gaining popularity : Report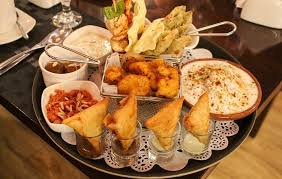 ISLAMABAD, Oct 22 :As Tea is a popular drink of choice in Pakistan,  the popularity of tea has given rise to hi-tea, and afternoon tea, which has become a culture for restaurants and hotels in Islamabad who are offering special discount packages with variety of dishes to attract more and more consumers to visit their sites.
A report aired by a private news channel revealed, there are many restaurants in Capital city are offering hi-tea with an array of snacks and desserts during the start of Winter as Hi-tea is the most popular meal in Pakistan.
According to Young citizens , Restaurant Rooftop Hi-Tea Buffet and is a good experience. In main course they had almost 10 to 30 dishes which major includes: Chow mien, Mantu dumplings, Gola Kabab, Seekh Kabab, Spring Rolls, Sandwitches, BBQ, Dahi Bhallay, Channa Chaat and much more.
Serving more than 35 items in Hi-Tea Buffet is a amazing deals for my family members , said Ayesha Ali.
Hi-tea has become the routine of individuals all around the city, Individuals prefer Hi-Tea over lunch since it gives you the alternative of both tea and lunch, in the meantime.
 Hi-Tea platter is not just lavishing, it is sumptuously rich in every bite, in terms of taste and quality, said a visitor in local hi-tea restaurant while enjoying the treat.
These days, a formal afternoon tea is more of a special occasion, often taken as a treat in a hotels and restaurants. The food is usually served on a tiered stand. You can also find tea rooms and coffee shops in many places .
 E-11 Local famous Hi-tea restaurant offers the best Hi-Tea Buffet in Islamabad at only Rs 750 per person, with a variety of 30+ dishes, it is the best place to be daily from 3 pm to 6 pm, said a citizen Zainab Amin.
 Afternoon tea more popular than ever as hotels get huge boost in business with changing trends among youngsters, said 20 year old Javeria Anayat.
For a country that considers tea their unofficial national drink, it is cause for great celebration that afternoon tea is back in vogue and in a big way, she added.
In fact, afternoon tea has become such big business for leading hotels in the capital, that some are putting on six sittings a day to cope with demand, said a restaurant manager.
Office workers and residents are listing afternoon tea as a must-do event while in the capital, and business leaders in all industries are choosing to hold meetings over tea as a stylish and relaxed alternative to the power breakfast or lengthy dinner, said a Banker Haider Mushtaq.
"Demand for a wide choice of tea and the trend for premeditation offers a great opportunity to boost traditionally quiet day parts, as afternoon tea and tea parties have seen a resurgence and not just in hotels," says, marketing manager.