Uplift-GB Govt committed for socio-economic uplift of GB: MLA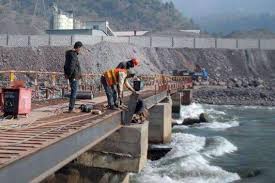 ASTORE, Oct 22 :Member Gilgit Baltistan Legislative Assembly and Parliamentarian Secretary Health Barkat Jamil said Monday the provincial government was taking tangible measures for the socio-economic development of the area.
Talking to media, he said secretary health and all the DHOs of districts of Gilgit Baltistan had been instructed to ensure that there was no paucity of medicines in many hospital of Gilgit Baltistan besides improving service delivery.
He warned strict action would be taken against those who were found in avoiding duty.
The GB parliamentary secretary said due to good policies of provincial government, the developmental works in all districts of Gilgit Baltistan were in progress smoothly.
Currently, he added many development projects in progress in district Astore too, which would be completed timely.
He further said that he would continue with same dedication for the socio-economic uplift of masses who reposed trust in him.
He added that District Astore was a gate way for the region of Gilgit Baltistan due to its scenic beauty, frequented by deluge of visitors every year.